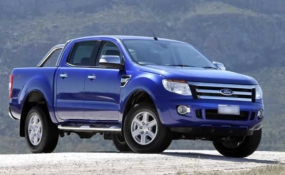 Photo: The Herald
Cash strapped and deeply indebted Ndola City Council (NCC), has reportedly staked various properties as collateral for the purchase of nine Ford Ranger WildTrak vehicles for management valued at hundreds of thousands of dollars.
Sources have told the Times of Zambia that vehicle purchase arrangement has been exposed in the latest audit of the council's finances, which were recently reported to be a mess, with millions of Kwacha owed to workers in salaries and in statutory obligations to NAPSA and other insurance firms.
The vehicles, with a brand-new automatic Ford Ranger costing US$58,500 and manual transmission going for US$56,700, are already in the possession of senior managers, including some who were recently suspended in relation to investigations into a land sale scam.
According to sources who have seen the audit report, the properties staked as collateral to the bank financing the purchase include the Lowenthal Theatre which serves as the city's town hall, the fire station, public library and the Housing and Health Department offices.
When reached for a comment, public relations manager Tilyenji Mwanza said she was in no position to comment on the rumours as management was still studying the findings of the auditor's report which was presented to the acting Town Clerk Wisdom Bwalya.
When queried on how an entity that owed staff salary arrears could afford to get into the purchase of such expensive motor vehicles, Ms Mwanza said any comments on the matter would have to wait until management had studied the contents of the audit report.
"The report will be submitted to the auditor-general but it first has to be deliberated on by the council…the right procedure is the council first has to sit. Once discussed then we can talk about the findings of the report," she said.
On fears expressed by staff that properties staked as collateral could be repossessed by the bank for failure to honour the contractual obligations with the supporting bank, Ms Mwanza said that would depend on the terms of the contract.
She said if the reports were true, there may be need to revisit the contract, given the council's parlous financial state, but this would depend on how management interpreted the audit report.
Ms Mwanza said management was in discussions over various issues with regard to the financial situation, adding that the purchase of the nine motor vehicles had been a contentious issue among some of its employees.
She said as part of the recovery process, the local authority was down-sizing its bloated workforce.