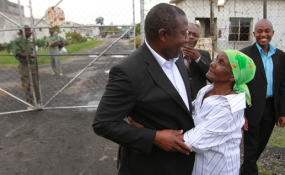 Photo: New Zimbabwe
The Coalition of Democrats (CODE) on Thursday selected former MDC-T deputy treasurer general and leader of the Renewal Democrats of Zimbabwe (RDZ) Elton Mangoma to be their 2018 Presidential candidate.
Mangoma, who is being deputized by Barbara Nyagomo of the Progressive Democrats of Zimbabwe (PDZ), will be contesting against President Robert Mugabe of Zanu PF and his former boss Morgan Tsvangirai who is fronting the MDC Alliance.
Speaking at his inauguration at the CODE's Tanganyika offices in central Harare, Mangoma said his initial and important task was to fight for a level political platform through pressing for electoral reforms.
"We do not believe that the Zimbabwe Electoral Commission (ZEC) is independent and that it has the capacity to preside over a free and fair election and as such we have to take it to the mast so that we begin to see clear deliverables that give confidence to the people," said Mangoma.
"In fact is not about ZEC but the issue is about Zanu PF who control ZEC and we want to make that abundantly clear that we are not going to be fooled by the little games that are being played by ZEC to make us think that they are doing something transparent when they are not.
We know that there are serious issues that must be addressed to give the right to the people to vote which is in the constitution and not to administratively take away those rights from the people.
"So we are going to be talking about these issues, and if they require action, we will follow them up with action," he said.
CODE also established a board which supervises the presidium, the Supreme council and appointed Zapu Leader Dumiso Dabengwa to spearhead it.
Dabengwa said their political arrangement was different from Zanu PF which has one centre of power.
"Even now before he ascends to power after victory wherever he misbehaves the supreme council has the right to call him and be able to tell him that we think what you are doing is not in accordance with the principles of CODE.
Even when he is in government similarly, even if it means re-calling him the supreme council will be able to re-call him and discipline him accordingly," Dabengwa said.
Mavambo President Simba Makoni, Marceline Chikasha, the leader of the African Democratic Party, and ZimFirst's Maxwell Shumba were made the CODE Supreme council executive members.
Another CODE member, Gilbert Dzikiti of the Democratic Assembly for Restoration and Empowerment, defected to the National People's Party on the eve of the coalition's leadership announcement saying he had found wisdom in the former Vice President Joice Mujuru leadership.
Mujuru snubbed CODE after Dabengwa and others ignored her demands that she be declared the automatic leader of the coalition.
She is expected to launch a parallel opposition Coalition with the other faction of the former Finance minister Tendai Biti's fragmented People's Democratic Party which is being led by Lucia Matibenga.