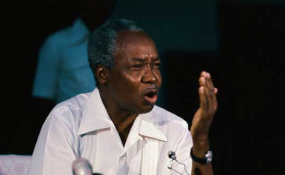 Photo: The Citizen
By Sauli Giliard
IN his political carrier, Tanzania's founding father Mwalimu Julius Nyerere is best known as former political party leader, former prime minister and the first president.
As we mark 18 years since his demise, 'the Sunday News' can uncover untold story of African Socialism believer, that he represented Morogoro residents in the legislative council in 1957.
Nyerere was sent by Tanganyika African National Union (TANU) to Morogoro to break the stronghold of Waluguru Chief Patrick Kunambi in Morogoro Constituency, former National Assembly Speaker Pius Msekwa told the Daily News in exclusive interview conducted in Dar es Salaam, this week.
Chief Kunambi, according to Pius Msekwa, stood as a private candidate to oppose TANU candidate in Morogoro and because he was strong and influential in the area, "the party sent Mwalimu to vie the post which he finally won."
The former Mwalimu Nyerere student at Pugu Secondary School, Msekwa, said that British used "Indirect Rule' in Tanganyika and local chiefs, he said people like Kunambi were part and parcel of administrative system. "After won the election, we again met with Mwalimu at Legislative Council.
By then I was assistant secretary and he was legislator," the veteran politician and CCM cadre told this paper. Later, in August 1960, after changes to the Legislative Assembly were passed, TANU gained the majority it sought whereas it got 70 out of 71 seats.
Nyerere, then, became Prime Minister in 1960, and Tanganyika gained limited self-government. But according to the history, Mwalimu Nyerere cooperated with local chiefs to fight for independence, and the goal was realized on December 9, 1961.
The 82-year-old Msekwa also said that Mwalimu Nyerere, who died 18 years ago, planned to retire from the president before 1985 but "he didn't because of challenges associated with implementation of Socialism and Self-reliance policy in the rural setting.
"After he won the election in 1975, he announced that it was his last tenure in office... he was supposed to retire in 1980," Mr Msekwa said, adding "but due to economic challenges the country was passing through at that time, Mwalimu thought it wasn't a right moment to retire... he was afraid that people would say he had run from the problems."
Meanwhile the former vice-chairman of the ruling party CCM pointed out that existing unity among Tanzanians and democracy are among fruits that MwalimuNyerere fought for.
Mr Msekwa admitted that there was a foul played after the resignation of Mwalimu Nyerere as a president especially in defending natural resources including mining.
He said Mwalimu left Katiba that protects natural resources but laws enacted later were not tough enough to fulfill the constitutional obligations. "What President John Magufuli is doing on natural resources has been stipulated in the constitution.
We made mistakes somewhere... But the President is doing right thing," he said. He advised Tanzanians to maintain the unity, which the founding Father Mwalimu Nyerere fought for as the nation commemorates the 18th anniversary since he departed. Mwalimu Nyerere was born in March 1922 in Butiama and died October 14, 1999 in London Hospital, United Kingdom.