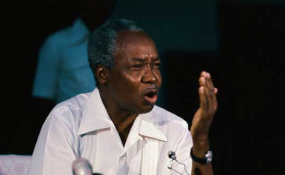 Photo: The Citizen
By Florence Mugarula
MWALIMU Julius Kambarage Nyerere was a crusader for peace, justice and unity. As Tanzania, Africa and the world at large, celebrate 18 years he was promoted to glory, it is good to review some of the issues that he stood for.
It is obvious that no one can list down all the good things that Mwalimu Nyerere did for this nation and Africa in general. He did to his best and his good job is recognised beyond Africa.
It is enough to summarize his good deeds by saying Mwalimu was a crusader for peace, justice and unity. Among things that Tanzanians and all Africans cherish everyday is Kiswahili language. Mwalimu was and is still a champion of this precious language.
For every second Tanzanians and some Africans speak Kiswahili. Mwalimu Nyerere did a great job in promoting this unification language. Kiswahili is spoken by all Tanzanians; it is also the most widely understood language in Africa after Arabic.
The language is spoken not only in Tanzania, but also Kenya, Uganda, Rwanda, Eastern Zaire, and other African countries. Some academicians and political analysts said Mwalimu Nyerere contributed largely to strengthen Kiswahili in the country.
Mwalimu Nyerere's personal contribution enabled the language to overcome critical years when and where the political climate was much in favour of consolidating the position of English in Tanganyika/Tanzania.
Some academicians who spoke to 'the Daily News' said through Kiswahili, Mwalimu Nyerere promoted peace and unity. They said the language became the tool of unification among Tanzanians and that until today Tanzanians recognize each other through fluent Swahili language.
University of Dodoma lecturer, Dr Paul Loisulie said Mwalimu Nyerere government recognized Kiswahili as a national language. He said this was very crucial in promoting Kiswahili since the government had the option to approve English as a national language instead of Kiswahili.
"Mwalimu Nyerere decided Kiswahili to be the national language, this was very crucial in showing the importance of this language in the country, since then it was officially known across the country that the language of communication among Tanzanians was Kiswahili," explained Dr Loisulie. He added that Kiswahili was also made an official language in the National Assembly and all other public offices/institutions.
According to DR Loisulie, this enabled the public to communicate easily since the language was well understood by almost all Tanzanians. "By making Kiswahili a language of communication in all public offices and other organization, the language became popular and majority Tanzanians continued to use it, through that method, we all admit that Mwalimu Nyerere played a big role in promoting Kiswahili," said Dr Loisulie.
Moreover, the father of the nation promoted through his speeches, which were delivered in fluent Swahili. According to DR Loisulie, many Tanzanians were interested to listen to Mwalimu Nyerere because they understood well his language, and thus through his speech Kiswahili was largely promoted in the country and across Africa.
Moreover, Mwalimu Nyerere through his leadership system that required people especially public servants to serve in various parts of the country contributed much in promoting Kiswahili.
According to Dr Loisulie some servants from Northern zone regions were allocated job to the Southern zone regions, Lake Zone to the Coastal zone and thus Tanzanians remained with no option except to speak Kiswahili.
Mr David Mligwa, a lawyer and political analyst said Mwalimu Nyerere played a big role in promoting the language. He said the father of national wrote several books in Kiswahili.
"Mwalimu contributed a lot to the promotion of Kiswahili, he wrote many books in Kiswahili such as Uongozi na Hatima ya Taifa La Tanzania, Mabepari wa Venis, which was a translation into Kiswahili of Shakespeare's The Merchant of Venice, Translated four chapters of the New Testament into Kiswahili (Gospel of Matthew, Mark, Luke and John), Binadamu na Maendeleo, Juliasi Kaizari (Translation into Kiswahili of Shakespeare's Julius Caesar), Ujamaa essay and many others.
In March, 2017, the Africa's Kiswahili Ambassador, Ms Salma Kikwete applauded the government for promoting Kiswahili despite the language's limited vocabularies. She was opening a oneday dialogue on Kiswahili.
The former first Lady said all the five regimes have exceptionally worked to promote Kiswahili, noting that Mwalimu Julius Nyerere laid the firm foundation for the language during the country's independence struggles.
She said the leaders who came after Mwalimu Nyerere worked hard to promote the language through not mixing English words with Kiswahili in their speeches, noting that the fourth regime went further to have the language declared one of the African Union (AU) official languages.
She added that President John Magufuli has opted to use Kiswahili in international meetings and conferences. "Kiswahili has played a critical role making what Tanzania is today in terms of unity and development," she noted.
Dr Mkabwa Manoko of UDSM on the other hand stressed that various studies conducted have shown that students perform well when taught in the language they understand, Kiswahili in the Tanzania's case.
As the country marks 18 years of Mwalimu Nyerere demise Ms Joyce Sambara, a secondary teacher at Makamba secondary school said Mwalimu Nyerere set strong foundation on Kiswahili language.
She said the language brings together all Tanzanians and that it a sign of unity. "With Kiswahili we are one thing, I was happy to hear that the African Union (AU) is also considering using Kiswahili. Language is a strong tool in uniting people for a certain course, as we fight to build up our economies, we need to understand each other... and Kiswahili is likely to bring Africa together," she said.