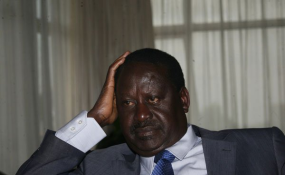 Photo: Evans Habil/Daily Nation
By Patrick Lang'at
Nasa leader Raila Odinga on Thursday said he was willing to "reconsider" his stand on participating in next week's fresh presidential elections, if his demands are met.
However, he described as a vindication of the Nasa cause, the resignation of Dr Roselyn Akombe from the Independent Electoral and Boundaries Commission and her revelation of deep divisions in the polls body.
"If proper consultations are done and if proper reforms are carried out, and those fears that we raised are addressed, then we will reconsider," Mr Odinga said.
"But as it stands right now, our position is (as) we announced it yesterday," he stated.
Mr Odinga was speaking outside Anniversary Towers after a 40-minute meeting with IEBC chairman Wafula Chebukati.
RESIGNATION
The National Super Alliance (Nasa) leader said that after commissioner Akombe's resignation, and a statement by Mr Chebukati to the effect that he could not guarantee a credible election, it was clear that the commission needed extensive reforms.
"That (the Dr Akombe resignation and Mr Chebukati's statements) basically confirmed our fears, and our reasons for pulling out of this race. It is now clear to anybody that the environment does not exist for a free and fair election," Mr Odinga, who was accompanied by Nasa co-principal Musalia Mudavadi, said.
He added: "There are things happening over which the chairman has no control over. So we said instead of wasting money and going to a charade, we will rather pull out."
Mr Odinga rubbished comments by President Uhuru Kenyatta and his deputy William Ruto that he said suggested he was begging for a meeting.
"You know what the Jubilee people said yesterday. Under those circumstances, is it still proper to meet with Kenyatta? It is made to look as if I am begging . . .," Mr Odinga said.
MEETING
Even if he were to talk with President Kenyatta, he said, the current environment did not allow it.
"I do not know how many times I need to tell them (that I do not want a nusu mkate (coalition government). I do not want to appear as if I am going to beg. I do not need anything from the so-called William Ruto," he said.
Thursday's meeting was called by Mr Chebukati a day after he issued a nine-page statement where he gave conditions for his continued stay at the helm of the commission.
The self-effacing chairman asked the political class to keep off the IEBC and stop intimidating its employees, warning that he will not hesitate to crack the whip against them. He asked IEBC staff he said had been adversely mentioned to step aside.
JOINT MEETING
Thursday's meeting, Mr Chebukati said, will be followed by another one he plans to have with President Kenyatta. Earlier yesterday, the commission had cancelled a planned joint meeting with the eight presidential candidates at Serena Hotel, with a communication saying it was awaiting for a mutually agreed date.
"He has told us that he will meet President Kenyatta on Monday, before he can make a decision," said Mr Odinga.
The National Super Alliance has demanded the resignation of IEBC chief executive Ezra Chiloba, commissioners Abdi Guliye and Boya Molu, and nine senior staff, the change of the ballot paper printer and the elections technology provider before the fresh poll ordered by the Supreme Court when it annulled President Kenyatta's August 8 win.
Mr Mudavadi challenged Mr Chebukati and Dr Akombe to name the people they said had been interfering with the commission.