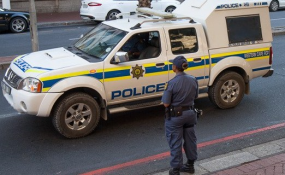 Photo: Ashraf Hendricks/GroundUp
Figures linked to the underworld nightclub security industry expect major retaliation attacks in Cape Town and have heightened their security after men got into the hospital where wounded alleged Sexy Boys gang leader Jerome "Donkie" Booysen is recovering, to apparently try and attack him.
Sources with close knowledge of the matter on Friday confirmed to News24 that several of those linked to what happened had boosted their security measures as a result of recent shootings and attacks.
News24 understands this includes making use of extra armed bodyguards.
At least one visibly armed man, apparently there as a measure of protection, was spotted on Thursday evening outside the hospital where Booysen was admitted.
News24 understands several other armed men were also present, to apparently protect certain individuals at the scene.
If some sources' suspicions are true and Booysen was targeted in hospital by men intent on killing him, it will be the fourth time in about six months that there has been an attempt on his life.
News24 is not providing Booysen's exact location for security reasons.
Booysen was wounded four times in a shooting at Cape Town International Airport early on Wednesday.
A second man was also wounded in the incident.
On Thursday night, police said the scene was still active and no official comment on the matter was provided.
Sources say that on Thursday evening a suspect, dressed as a woman and with his lips painted red, got into the hospital where Booysen was, but was caught before anything happened. A source has claimed this man is an alleged member of the 27s gang.
They say another suspect, who had been dressed in a white pants and jacket to apparently try and blend in as a doctor, managed to escape.
A stolen vehicle, a white Renault, was apparently also found outside the building.
According to the sources, Booysen and someone with very close ties to him had been the targets of what they described as an attempted attack.
Controversial businessman Nafiz Modack, as well as several other men, were at the scene late on Thursday.
It is understood Modack was called for assistance by the man closely linked to Booysen.
Modack has been heading a group of men intent on taking over nightclub security from a more established grouping.
Source: News24