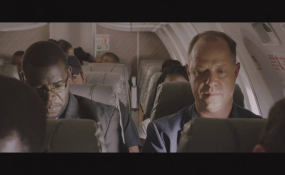 Photo: The Nation
By Benson Mwangi
On 13th January 2012, Zambian author, historian, media practitioner and educator based in the U.S. Field Ruwe penned Hunt for Successor 8: Zambian Intellectuals are Lazy before it was updated and published in the News and Lifestyle Magazine UKZambians on January 16, 2012.
Its brutal truth delivered by a person who should not be saying it, an epitome of what every African blames for the problems in the continent was mind-boggling and brutal in its delivery.
The article was taken up by a Ghanaian blogger and author based in America, Malaka Grant who edited the title to You Lazy (Intellectual) African Scum and published Field Ruwe's article on her blog. From there Ruwe's brutally honest article went viral, appearing across the blogosphere and web forums where the vicious verity has been severely discussed creating conversations across the continent and its diaspora.
Njue Kevin took over the story and created arguably the shortest most memorable and successful 14-minute film in Kenya today. Intellectual Scum has been screened in over 13 film festivals worldwide between 2015 and 2017. The film gives background, voice and tone to Ruwe's popular article and maintains the entire dialogue as it was initially written.
BREAKING NEWS
Njue's film begins with Breaking News on TV reporting an outcry as new Ebola outbreak does not receive the international action as it should, poor infrastructure resulting in urban water shortage threatening health problems, the last elephant bull is found slain and tusks extricated in East Africa and thousands of people killed and villages destroyed by an escalation of Boko Haram terrorism; the kind of depressing news from Africa.
The scene changes to a white man waddling through a busy African market where he throws a few coins into a beggar's bowl while a would-be bag snatcher observes his movements keenly and suspiciously. Instantly, the thief snatches his knapsack and takes off. He throws off a group of men running after him and after ascertaining he is safe, takes a peek at his loot and finds an apparent expensive gold watch, exchanging it for an unspecified amount of money.
WATCHING YOURSELF DIE
On a plane, Ruwe checks the time on a watch exactly the same as the snatched one and the white man in the African market, Walter sitting next to him is taken aback then recovers and begins his tirade, "amazing how you all just sit there and watch yourself die". From that moment on Mr. Ruwe is fed with hard unsettling truth you can actually feel his angst and rage. At first you can ignore Walter as just another racist white man who believes he is superior until the full breadth of his enraging dialogue begins to make insane sense.
HE HAS A POINT...
Apparently, Walter had lived in Zambia for three years and understands the politics and much more about "Kaunda's country" that is "now Sata's". Walter talks about the IMF group he had arrived in Zambia with to "rip you guys off", the million dollar abode the government gave him overlooking a slum and his new job with another group whose intentions are just the same as IMF's if not worse. They would return to Lusaka, offer a couple of millions of dollars to the president and leave Zambia with twenty-times more. The Breaking News at the beginning of Intellectual Scum begins to make sense.
INTELLECTUAL STAGNATION
Ruwe, his Zambian cohorts and Africa in general are "Lake Zambia" according to Walter and the Western world he speaks of as "we', a stagnant water wasteland where African brains go to sleep working from eight to five before spending the entire evening imbibing alcohol. Inebriated graduates wasting away at Lusaka Golf Club, Lusaka Flying Club and Playhouse. All the while the white 'bwana' is brainstorming on the overdrive in Africa with large boats, fishing Africa's minerals and the wildlife while leaving behind crumbs, the morsel for the "muntu" (the lazy African).
SOFT PLACE FOR THE AFRICAN WORKHORSE
Walter seems to have a soft place for the African workhorse, the uneducated and poor Africans who toil to death without complaining like Boxer the horse in George Orwell's Animal Farm. Selling merchandise in open stuffy streets like the Kafue Road women, crushing stones for a morsel. The sadistic and most hurtful, anguishing tirade by Walter is scathing, laced with racist overtones but hits home when he asks where the Zambian (African) intellectuals are. They are incapable of finding solutions to the common African's small problems like water filters for poor villagers, simple machines or invent a simple mechanical stone crusher.
Like Ruwe, the film will deflate you, particularly when Walter reminds him that he (Africans) stand "at the bottom of the totem pole" and ends the uncomfortable tirade that has attracted the attention of everyone, including the cabin crew by scribbling on a paper the title of a book written by a friend he believes Ruwe should read, "Lords of Poverty". You are left in an angsty limbo, unable to throw unprintable epithets at Walter or holding your horses and pondering on the pitiless honesty delivered heartlessly, with the aim of searing your mind with uncomfortable realities.
Probably the best 14-minute film you will ever see in many lifetimes.
The short film is directed by Njue Kevin and features Jason Corder as Walter, Patrick Oketch as Ruwe among other Kenyan actors such as the two Mali TV Series actors, Kevin Samuel and Mkamzee Mwatela.