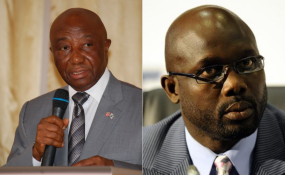 Photo: allafrica.com
By Henry Karmo
Monrovia — The National Elections Commission (NEC) has declared campaign open for the run-off election between Vice President Joseph Boakai and the Senator George Weah of the Coalition for Democratic Change (CDC).
The runoff comes in the wake of failure by the two political parties to obtain the constitutional 50 plus one vote to be declared winner of the election.
In the final results announced by the Chairman of the NEC Jerome Korkoya, George Weah of the CDC obtained five hundred & ninety-six thousand thirty seven (596,037) votes which constitute 38.8%, followed by Boakai with four hundred forty-six seven hundred sixteen (446,716) constituting 28.8%.
"As no single candidate achieved an absolute majority of valid votes cast to be elected to the office of President in the October 10, 2017 election, in accordance with Article 83b of the Constitution and 4.15a of the New Elections Law, the National Elections Commission herewith announces, pursuant to Article 83c and the elections timetable, an election run-off to be held on November 7, 2017 between the two candidates with the most votes in the first round: Mr. George Manneh Weah of the Coalition for Democratic Change and, Mr. Joseph Nyuma Boakai of the Unity Party.
According to NEC, of the over two million registered voters, one million six hundred & forty-one thousand nine hundred & twenty-two voted (1,641,922) constituting 75.19%.
In other results the Liberty Party (LP) obtained one hundred forty-nine thousand four hundred & ninety-five (149495) constituting 9.6% while Movement for Development and Reconstruction of senator Prince Johnson (MDR) obtained one hundred twenty-seven thousand six hundred sixty-six (127666) constituting 8.2%, with Alexander Cummings of the Alternative National Congress (ANC) obtaining one hundred twelfth thousand sixty seven (112067) constituting 7.2%.
"The official campaign period for the runoff election is hereby declared open and will end at 11:59pm on Sunday, November 5, 2017. The parties in the runoff elections are to observe the regulations governing political campaigns."