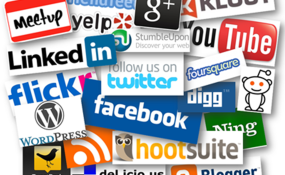 Photo: The Herald
Monrovia — Ahead of the upcoming run-off Presidential elections, Liberian President Ellen Johnson-Sirleaf has condemned in the strongest terms what she calls the abuse and misuse of social media through the use of invective, hate speech and outright vulgarity.
In a nation-wide address Thursday, the Liberian leader said the social media abuse threatens the peace as well as the run-off.
"Barely a week after the end of first round of elections, our attention has been drawn to displays on social media that are extremely inimical to the survival of our peace and democracy."
Social media has been bombarded with a wave of fake news in recent weeks with several stories about candidates participating in the ongoing electoral process.
The President used her address Thursday to urge Liberians to remain civil, responsible and continue to be tolerant of diverging opinions and views that might not necessarily be favorable to ours.
"Resorting to profanities on social media contributes nothing to the national discourse, but only serves to taint our national and international image," the President said.
"We must all express our indignation to this unacceptable way of politicking and seek to continue the decent democratic values that have brought us this far as a nation and people."
As Liberians pat themselves on the back for peacefully voting in the October 10 polls, the President said it is crucial for all to demonstrate love for country by and through actions.
She added that the greatest task for now must focus on how Liberians consolidate the democratic gains made over the last 12 years, by voting peacefully and nationalistically, respecting the law and keeping the peace for the greater good of our country.
The President's message came just moments after the National Elections Commission declared campaign open for the run-off election between the Unity Party (UP) of Vice President Joseph Boakai and the coalition for Democratic Change (CDC) George Weah.
The runoff comes in the wake of failure by the two political Parties to obtain the constitutional 50 plus one vote to be declared winner of the election. In the final results announced by the Chairman of the NEC Jerome Korkoya, George Weah of the CDC obtained five hundred & ninety-six thousand thirty seven (596037) votes which constitute 38.8%, followed by Joseph Boakai of the UP with four hundred forty-six seven hundred sixteen (446716) constituting 28.8%.
"As no single candidate achieved an absolute majority of valid votes cast to be elected to the office of president in the October 10, 2017 election, in accordance with Article 83b of the Constitution and 4.15a of the New Elections Law, the National Elections Commission herewith announces, pursuant to Article 83c and the elections timetable, an election run-off to be held on November 7, 2017 between the two candidates with the most votes in the first round: Mr. George Weah of the Coalition for Democratic Change and, Mr. Joseph Boakai of the Unity Party.