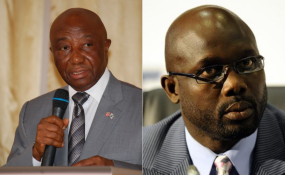 Photo: allafrica.com
By A. Omaska Jallah
The Campaign Manager for the Coalition for Democratic Change (CDC) Professor Wilson Tarpeh has expressed optimism for victory in the November 7, 2017 presidential run-off election.
According to the NEC, the 100% tally across the country has proven that the required 50% plus one vote required by law across the country was obtained by any of the 20 political parties that participated in the elections.
Giving the final results out of the total 100% votes tally across the country, the Chairman of the Board of Commissioners of the National Elections Commission (NEC), Cllr. Jerome Korkoya said the CDC which obtained the total votes of 596,037 amounting to 38.4% will go into a run-off election on November 7, 2017 with the Unity Party which obtained the total votes of 446,716 amounting to 28.8%.
But shortly after the announcement of the final results by Chairman Kokoya, Prof. Tarpeh said CDC accepts the results released by the NEC. He said his party won eleven (11) out of the 15 counties.
The CDC Executive assured all of their partisans, supporters and those who, he said are sitting on the fence, to see the direction shown by 11 counties' overwhelming votes given to the CDC.
"As regards the run-off, we will do everything legally possible to go into the run-off, because we believe that we will win as far as the CDC is concerned and I speak for the entire leadership and membership of this institution," Tarpeh assured.
Additionally, the CDC campaign chief maintained that they will continue this democratic process to a logical conclusion.