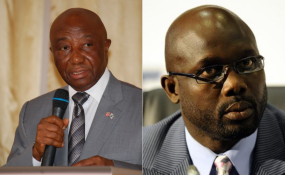 Photo: allafrica.com
... MDR Chief Scribe
By Jimmey C. Fahngon
Ahead of the presidential run-off election in Liberia, the party of Senator Prince Y. Johnson, Movement for Democratic and Reconstruction (MDR) says it will support the side of the majority.
Appearing on Prime FM Morning Drive talk show Wednesday, MDR Secretary General Wilfred Bangura did not say which side is the majority, but said there are intense discussions and negotiations ongoing between his party and the two parties that will be in the run-off, Coalition for Democratic Change (CDC) and the Unity Party.
Bangura said representatives from both parties have met with his party in an effort to get the endorsement of Senator Johnson who won Nimba County more than 53 percent of votes.
He said his party's decision for support in the run-off will not be influenced by money, but the will of the majority.
Bangura said Senator Johnson is interested in the decision of the majority and the good of Liberia; as such, any decision he takes must be in the interest of the country and its people.
Currently, he said Senator Johnson has not made any decision as to which party he will support in the run-off, adding that he is listening to both camps to see which one is in the interest of Liberia.
Bangura said the Nimba County senator wants to ensure that whoever becomes President will maintain peace and stability that Liberia has enjoyed over the years.
He disclosed that the party will announce support for its choice in the run-off between now and October 24, 2017, the date that NEC is expected to announce final results of the presidential and representative elections.