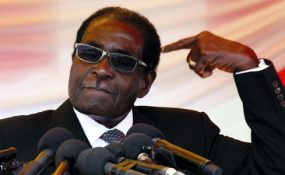 Photo: The Citizen
THE appointment of President Robert Mugabe as United Nations (UN) goodwill ambassador for health has stoked anger as the near-centenarian is charged with overseeing the collapse of his country's health system and then flying abroad for treatment.
Mugabe, now 93, spends millions regularly flying to Singapore for even for minor medical attention, spurning crisis-hit local hospitals which opponents say are themselves in need of intensive care due to the incompetence of his four-decade rule.
And yet the Zanu PF leader was this week appointed goodwill ambassador for the UN's World Health Organisation (WHO) at a conference underway in Uruguay.
The role is largely symbolic, but the symbolism of giving it to a man whose leadership of Zimbabwe has, critics say, coincided with a collapse of the country's health service, and major human rights abuses.
Confirming the appointment, the WHO head Tedros Adhanom Ghebreyesus, said Mugabe landed the post on the strength of achievements Zimbabwe had registered in formulating policies that facilitate an inclusive and accessible health system.
"I am honoured to be joined by President Mugabe, of Zimbabwe, a country that places universal health coverage and health promotion at the centre of its policies to provide health care to all," Tedros said addressing conference.
"Today I am also honoured to announce that President Mugabe has agreed to serve as a goodwill ambassador on NCDs for Africa to influence his peers in his region (Africa) to prioritise NCDs."
Dr Tedros, who is Ethiopian, is the first African to lead the WHO. He was elected with a mandate to tackle perceived politicisation in the organisation.
Zimbabwean and international rights groups were outraged by the development.
According to Zimbabwe Vigil and Restoration of Human Rights, the appointment reflects WHO's ignorance about critical situations prevailing in member states.
"That is absolutely absurd. It shows the lack of interest that the UN might have towards what is really going on in Zimbabwe," said Salani Mutseyami, Zimbabwe Vigil and Restoration of Human Rights spokeswoman to the UK-based Telegraph newspaper.
"Mugabe actually travels to a foreign land where he gets medication on a regular basis. He does not get medication or go to the hospitals in Zimbabwe.
"If the leader has to jet off to another country to get medical attention that shows you he cannot get that in Zimbabwe.
"The whole health system is in tatters. So, I don't know what political games are being played by the United Nations when they give such a man a platform."
Over 12 organisations including the World Heart Federation, Action Against Smoking and Cancer Research United Kingdom condemned the appointment via a statement arguing that Mugabe's appointment despite a long history of human rights abuse shocked the sector.
The groups said they had raised their concerns with Tedros on the sidelines of the conference, to no avail.
Zim health sector in crisis
Despite the constitution guaranteeing health care, most Zimbabweans are struggling to enjoy that right as the country's health sector is in shambles with service delivery affected by drug shortages, low employee moral owing to poor remuneration, obsolete and inadequate funding and crumbling infrastructure.
Central hospitals such as Harare and United Bulawayo Hospitals suspended elective surgeries early this year citing the absence of drugs needed to perform the procedures. Industrial actions have become regular as the sectors' employees fight to improve their poor conditions of service.
Of-late, with the country suffering serious cash shortages, restocking of medicines has been adversely affected as suppliers struggle to secure the foreign currency needed to import raw materials and critical drugs.
"Nothing works in the state hospitals. We have almost no drugs, hardly any equipment works. Mugabe deserves to be condemned for dismantling Zimbabwe's public health service," the Telegraph quoted a local doctor in anonymity.
Mugabe, his family and cronies regularly fly abroad for treatment. The president in treated in Singapore, the country to which his daughter Bona also flew to for delivery of her first child.
Recently vice president Emmerson Mnangagwa was airlifted to South Africa for treatment after he suffered poisoning.
Opposition parties have constantly criticised Mugabe for depriving Zimbabweans of decent health services through incompetent governance, corruption and poor economic policies which have crippled the health system while he enjoys five-star treatment in Singapore.
Attempts by health professionals to highlight the plight of the sector have often attracted threats and punishment from the employer including withdrawal of salaries.