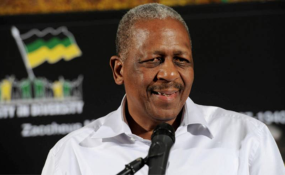 Photo: Werner Beukes/Sapa
ANC presidential candidate Dr Mathews Phosa has said South Africa's rape culture emanates from one point - men, and that it is a monumental task to fix the men that perpetuate sexual abuse.
Speaking at the business breakfast of the Growing Up Without A Father foundation in Pretoria on Saturday, Phosa said the country needs to interrogate the roots of patriarchy with young men, their perceptions of entitlement and their relationships with women.
He said more initiatives are needed that seeks to determine and restore the minds of boy-children and that more conversations needed to be had around fatherlessness and family dynamics and masculinity.
"A young man that grows up with his father assaulting his mother is likely to do the same for the father is a role-model," said Phosa.
"The broken man is not just broken for himself, it has a ripple effect."
"Today in South Africa we are battling with the epidemic of rape culture, there is one cause of sexual abuse... Men, Men, Men."
He said that growing up without a father is an all too familiar pain, one so common that it's been absolved into society's psyche with residual effects.
"It hurts young girls, denying them that proverbial first love that models the kind of behaviour and expectations they should have of a man."
"It hurts the boy child as they grow up to conduct their relationships and manhood in a haphazard way."
He said because of these ills, more so than ever, it is pertinent to have strong but gentle role-models in households and communities.
Phosa concluded that everyone, as well as the nation, needs a good father.
"When Mandela spoke, he not only spoke of South Africa, he spoke of Africa and he spoke for the world, President Mbeki tried very hard to emulate him, today we are a fatherless nation."
The foundation's CEO Charley Pieterson said their vision is to reunite fatherless children with their biological fathers if possible, to encourage lost or estranged fathers to be responsible for their children's upbringing as well as to guide and inspire fathers.
He also encourages men in communities to "adopt" fatherless children and mentor them.
Source: News24