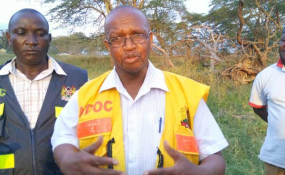 Photo: Magdalene Wanja/The Nation
By Daily Nation
A helicopter crashed in Lake Nakuru shortly after take off from a hotel in the town that is about 160km northwest of Kenyan capital Nairobi.
Nakuru police chief Joshua Omukata confirmed Saturday morning the incident saying they were waiting for a speed boat to conduct the rescue as the chopper crashed inside the lake.
Reports indicate that there were five people on board.
Nakuru Senator Susan Kihika said of those on board, three (names withheld) were members of her communications team.
The copter left Jarika County Lodge in Nakuru town at about 6.48am local time. Witnesses say it was flying low before it crashed.
The chopper was to later ferry more journalists to a campaign rally to be addressed by President Uhuru Kenyatta in Tipis, Mau Narok, Nakuru County.
The Kenya Civil Aviation Authority (KCAA) has said there is no indication of survivors in the crash.
KCAA Director-General Gilbert Kibe confirmed that there five passengers on board. They included the pilot, three men and a woman.
He also said the helicopter is owned by Flex Air Charters run by a Captain Bootsy Mutiso.
Rescue efforts were yet to start four hours after the helicopter sunk in the lake as there was no boat nearby.
The rescuers had to wait for a boat to be transported from Lake Naivasha, about 92km away.
The boat arrived a few minutes after 1pm local time.
National Disaster Management Unit Communications Director Pius Masai said a police helicopter has been deployed to assist in the rescue.
"We have activated the Kenya Defence Forces Disaster Response Unit through National Operation Centre to bring divers from the Kenya Navy," he said.
Nakuru leaders led by Governor Lee Kinyanjui were also at the Lake Nakuru National Park.