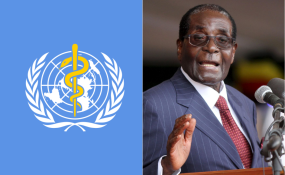 Photo: allafrica.com
The World Health Organization has named Zimbabwean President Robert Mugabe a "goodwill ambassador," drawing criticism from health and rights groups. Later, WHO said they were reconsidering their decision.
The United Nations World Health Organization (WHO) came under fire Friday after it named Zimbabwean President Robert Mugabe a "goodwill ambassador."
WHO Director General Tedros Ghebreyesus praised Mugabe at a conference on noncommunicable diseases in Uruguay this week, saying the 93-year-old could use the new role to "influence his peers in his region."
Zimbabwe is "a country that places universal health coverage and health promotion at the center of its policies to provide health care to all," said Tedros.
Zimbabwe's once prosperous economy has been devastated under Mugabe's 37-year rule. Like many public services, the health system has collapsed, with hospitals lacking basic medical supplies and medicines, and nurses and doctors often go unpaid.
Critics point to Mugabe's need to seek medical assistance abroad as a testament to Zimbabwe's crumbling health system.
More than two dozen medical organizations issued a statement saying they were "shocked and deeply concerned to hear of this appointment, given President Mugabe's long track record of human rights violations and undermining the dignity of human beings."
The groups said they raised the issue with the WHO chief but their concerns were ignored, while the United States called the decision "disappointing."
Human rights groups also condemned the decision.
"Given Mugabe's appalling human rights record, calling him a Goodwill Ambassador for anything embarrasses WHO and Doctor Tedros," Iain Levine, program director at Human Rights Watch, wrote on Twitter.
WHO rethinks move
Later on Saturday, WHO responded to the criticism of Mugabe's appointment. Ghebreyesus wrote on Twitter that "I'm listening. I hear your concerns. Rethinking the approach in light of WHO values. I will issue a statement as soon as possible."
According to WHO, noncommunicable diseases such as cancer, heart disease, diabetes and respiratory illnesses are the leading cause of death and disability in the world, killing at least 36 million people every year.
The UN appoints goodwill ambassadors to draw attention to certain causes, but they hold little power. Mugabe would be the first African to hold the post.
Author: Nik Martin
cw,es/aw (AFP, AP)