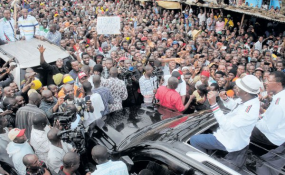 Photo: Jared Nyataya/The Nation
By Gerald Bwisa
Nasa leader Raila Odinga has called on his supporters to hold demonstrations on Tuesday and Wednesday to stop the repeat presidential election from taking place.
Mr Odinga, who appears to be hardening his position as the poll draws closer, has also introduced a twist to the row surrounding the election by claiming that a batch of ballot papers have already been printed by a local firm and distributed to favour the Jubilee Party.
Mr Odinga, who addressed a series of rallies in Trans Nzoia County on Sunday, maintained that the Nasa coalition will not participate in the October 26 election whose outcome, he said, has already been decided in favour Jubilee Party's Uhuru Kenyatta.
"We cannot go to the poll again when things have not been properly rectified. Already the rigging plot is in place. We know that votes have already been printed and have been distributed. We are not fools," Mr Odinga told a Catholic congregation at a church service at St Peter's Claver, Kiminini.
BALLOT PAPERS
He said the ballot papers were printed secretly in Nairobi by a private company and that he has evidence to show Kenyans.
"We have evidence to show Kenyans that what is going to take place on Thursday in the name of an election is a total sham. The outcome is already decided," said the Nasa chief, adding that this is one of the reasons he will not participate in the repeat poll.
"We want to let Jubilee know that we are prepared to participate in a free and fair election but we are not prepared for an election which has already been rigged," he added.
IEBC has begun dispatching ballot papers to various polling stations across the country.
The first batch destined for 10 counties farthest from Nairobi and the diaspora landed in Nairobi on Saturday night.
Two other consignments are expected to arrive on Monday and Tuesday.
DEMONSTRATIONS
After the church service, Mr Odinga addressed hundreds of his supporters at Kiminini centre and urged IEBC chairperson Wafula Chebukati 'to be man enough' and not oversee the repeat poll.
Mr Odinga said the protests will resume Tuesday and Wednesday and he urged his supporters to come out for demonstrations where he will make a major announcement.
"We will protest on Tuesday and Wednesday and on Thursday there will be no election," he said.
He said the move by IEBC chief executive Ezra Chiloba to take a break ahead of the poll was just a ploy "to hoodwink Kenyans as he has left an already set system".
He said it was high time Mr Chebukati told the country that he cannot conduct the repeat presidential election.
"We are telling Mr Chebukati to be man enough and be firm. He should say he cannot assure a free and fair election and Kenyans will stand by him," said Mr Odinga amid cheers from hundreds of supporters who turned up at the rally.
RIGGING
"You have the support of more than 10 million voters who are against rigging of the election but when you stand and insist that I should talk with Uhuru who is moving around saying I want a coalition government, you are losing goodwill," he said.
He added: "You think I can go to Uhuru and request for a coalition government? He is the one who stole the elections."
Mr Odinga, was accompanied by Nasa co-principals Musalia Mudavadi, Moses Wetang'ula, Bungoma Governor Wycliffe Wangamati, Kiminini MP Chris Wamalwa and other leader, insisted that Nasa will not negotiate for a coalition government and that they will not go to the election.