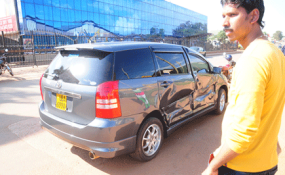 Photo: Stephen Otage/Daily Monitor
By Stephen Otage
Kampala — There was drama on Saturday afternoon as a bar manager at Morakha bar and restaurant in Bukoto stood up to an unruly Ministry of Defence driver, bringing him to order.
According to the bar manager who only identified himself as Rajiv, he was driving along 5th street industrial area, when the driver of a Toyota pickup number UG 0216D came from Mulwana Road in industrial area, knocking his vehicle at the junction. Rajiv says that the unidentified driver came out of his vehicle and started beating Rajiv on top of ordering him to remove his vehicle.
"He squeezed me and beat me up but I told him, you can do whatever you want but you are in the wrong. Let us settle this matter but he refused," Rajiv said.
He added that during the scuffle, he smelt alcohol from the driver which gave him courage to pursue justice.
"He must be drunk, Police should check whether he is sober, why is he forcing me to be in the wrong and yet he is the one who knocked me," he said as onlookers started gathering around him.
A number of soldiers in plain clothes who attempted to rescue their colleague, just picked up a few metallic objects from the pickup and wrapped them in a military jacket before taking off.
Immediately after his colleagues took off, the driver attempted to drive off to escape arrest but traffic police officers who had arrived at the scene jumped into the pickup and ordered him to drive to Jinja Road Police but the driver refused.
Asked whether the driver was drunk, one of the traffic officers at the scene who refused to identify himself said they wanted to verify the driver's soberness from the Police station.
Of recent, it has become fashionable for senior government officers including executive directors of government departments and agencies to be escorted with clearance vehicles which assume right of way even when they may not be entitled to the privilege.
Such vehicles flout traffic rules as they drive with blaring sirens shoving off other road users from their lanes.