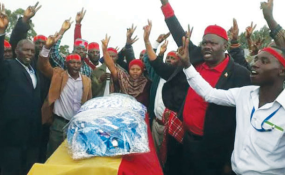 Photo: The Observer
By Baker Batte Lule
It will take time for the family of Yorakamu Tumwine to come to terms with what happened to their son, Edson Nasasira commonly known as Kakuru.
Nasasira was shot dead on Wednesday, October 18 in Rukungiri municipality. He is the first victim of the state's clampdown on nationwide resistance to the ruling NRM-pushed amendment to the constitution to lift presidential age limits.
Six other suspected gunshot victims are in hospital. They include Junior Aijuka, 18, a resident of Rwakabengo, who was reportedly shot in the stomach; Farouk Bangirana, reportedly shot in the right leg and genitals; Julius Turyomunsi, a resident of Nyakagyeme shot in the back while Christopher Muhwezi was shot in the stomach.
Others are Davidson Aryasingura who was hit with a teargas canister in the face as well as Naris Muhumuza who was shot in the leg, according to sources in Rukungiri.
What began as a 'usual' confrontation between the police and opposition bigwig Dr Kizza Besigye quickly took a violent turn as police tried to stop a planned rally in Rukungiri stadium.
The rally had been arranged by Patrick Amuriat Oboi, a candidate in the opposition Forum for Democratic Change's ongoing race for party president.
It soon deteriorated and turned into an ugly stand-off lasting several hours. The violence reminded one of the April 2011 Walk-to-Work killings when, again, the police unleashed lethal force on Ugandans peacefully protesting against high fuel prices and the rising cost of living.
On one hand, the police was firing at will, volleys of live ammunition and teargas canisters were directed at the stone-throwing crowd. But the mostly youthful FDC supporters, donning the red ribbons that have come to symbolise national resistance to amendment of Article 102(b), kept coming back.
The youth responded with stones, one of which, according to police, struck and claimed the life of Nasasira. However, this claim, that the fifth born in a family of seven was struck dead by a stone, has been roundly rejected in Rukungiri where the young man was laid to rest on Friday.
According to eyewitnesses, he was shot in the head, and this is what is driving his father, Tumwine, mad.
"How can they say that my son was killed by a stone yet it's obvious that what he had on the head is a gunshot wound," Tumwine told The Observer on Friday.
The bereaved parent denounced a purported postmortem report from Kambuga health centre, which allegedly stated that Nasasira was killed by a stone. He suggested it could have been doctored to exonerate the police of any wrongdoing.
"Police is yet to hand me the postmortem report but in any case, there is no way I can accept that report. That's why we said we should take the body to St Kalori Lwanga hospital, Nyakibale for a fresh postmortem. As we suspected, it was confirmed that indeed my son was killed by a bullet, not by a stone," Tumwine said.
He said that a written postmortem report will be released today, Monday.
Who was Nasasira?
Edson Nasasira was born to Yorakamu and Jovia Tumwine. He has been a resident of Kafunjo cell in the eastern division of Rukungiri municipality. He was born on May 5, 1995 in Bwamuha village, Burombe Rwamugoma Ruhinda sub-county of Rukungiri.
Nasasira went to Kashenyi secondary school where he sat his A-level examinations. He has been pursuing a certificate in mechanical engineering. It is said he was doing his industrial training before he met his violent death.
"He has been working at Nabugabo stage as a turn boy; loading trucks with sand and bricks, among others. Generally speaking, he has been a good boy; it's a pity that his life has been ended at such a young age," said a friend who preferred not to be named so as to speak freely.
The FDC party to which Nasasira is said to have subscribed has said his violent death will only increase their resolve to push on until President Museveni drops the idea of amending the constitution.
If Article 102(b) is amended, the 35 and 75-year age caps for presidential candidates would be removed, paving the way for Museveni to extend his 31-year rule when Uganda goes to the polls in 2021.
"As a party, we are considering petitioning court over individual police officers who participated in the gruesome murder of a peaceful Ugandan," said Walid Mulindwa Lubega, FDC national youth league vice chairman.
Tumukunde vs Kayihura
Lt Gen Henry Tumukunde, the minister for security, represented government at Nasasira's burial. In his speech, he laid the blame for this young man's killing at the feet of the police leadership.
Tumukunde said local police officers should be forgiven when such excesses are committed against the people because they act on orders from their superiors.
"It's like driving a car, the driver steers in a certain direction but the car goes off track because of the condition of the road... Let us forgive the local police because they act on orders from above... ," Tumukunde said.
As if to also disagree with the official version that Nasasira's life was ended by a stone, Tumukunde said investigations will be carried out to arrive at the exact cause of death.
Besigye still at police
Meanwhile, Dr Kizza Besigye, Patrick Amuriat Oboi and Ingrid Turinawe by Saturday were still being held at Naggalama police station in Mukono where they had been detained following their arrest on Thursday in Rukungiri on their way to Kabale to address a rally.
Police claim that Besigye commanded youths who engaged police in running battles that resulted into the death of Nasasira and injured several others including a police officer who lost an eye.
Efforts to speak to Besigye on Friday were futile as this reporter was denied access at Naggalama.