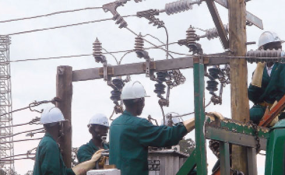 Photo: The Citizen
By Bertha Ismail
Arusha — The national power utility, Tanesco, will spend Sh5.6 billion during the current financial year to connect power to electricity consumers in four wards within the Arusha city.
These are Olasiti, Murriet, Terrat, Sokon One and Sinoni. They are among the high density suburbs and are located on the southern fringes of the city.
The regional manager of the Tanzania Electric Supply Company (Tanesco), Mr Gasper Msigwa, said implementation of the exercise has already started at Murriet and that teams of technicians were advancing towards Olasiti. The power lines covering 16.5 kilometres have already been connected to Murriet where installation has been completed by 40 to 60 per cent, he explained.
Residents of the area said they are elated by the move to connect them to electricity because it would boost their income generation activities.
One of them, Mr Samora Mollel, told The Citizen that he would now be able to do welding of more door and window frames for his clients and, in the end, make more money.
"I have had many clients but the problem had been a shortage of power to do welding of my products," he said, adding that reliable electricity supply was a blessing to all.
For his part, a barber who identified himself as Mr Jonas Jackson said since the power connection to his business premises he has registered more clients unlike in the past.
He can now operate his saloon from the morning until well in the night. "This is a blessing to me and my family," he pointed out.
Mr Francis Mbise, the civic leader at Murriet, said the suburb was fast growing due to construction of homes by new settlers from the Arusha city centre but the main problem had been poor electricity and water supply.
At a time more and more Arusha suburbs are connected to electricity, Tanesco has enhanced its crackdown on illegal connections.
Recently more than ten electricity consumers in Arusha and Arumeru District were arrested and will face legal measures for illegal connection of power.
The crackdown is spearheaded by technicians with the national power utility, Tanesco, both from the headquarters in Dar es Salaam and Arusha regional office.
Areas targeted in the first phase of the operation are the Kilombero wholesale market, Oldadai,Makao Mapya and Ngaramtoni suburbs as well as King'ori township in Arumeru district.
A senior safety officer, Mr Lenin Brayton Kiobya, said those found to have illegally connected power to their homes will be arraigned in court.
Illegal power connections not only denied Tanesco of badly-needed revenues for electricity consumed but can easily lead to fire outbreaks and endanger the lives of the very users and those behind the connections.