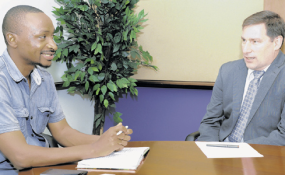 Photo: The Citizen
By Syriacus Buguzi
In October last year, Tanzania launched an ambitious strategy known as "Test and Treat," to curtail HIV/Aids. The country aims at putting on ARV treatment everyone found to be HIV-positive, regardless of their CD4 count.
However, only half of the 1.4 million Tanzanians known to be HIV positive, can access ARVs. How will the country bridge the treatment gap?
The Citizen Reporter Syriacus Buguzi spoke to the country director of the US President's Emergency Plan for AIDS Relief (PEPFAR), Mr Brian Rettmann. Excerpts...
Question: How is the project working with Tanzania to cover up this treatment gap?
Answer: PEPFAR programme has been in Tanzania since 2004, working closely with the Ministry of Health, currently supporting about 890,000 persons living with HIV (PLHIV) on life saving anti-retroviral treatment.
As you said, in October last year, the government approved Test and Start which allows patients to immediately begin treatment the same day as soon as they are diagnosed. It has been shown that when someone is stable on their treatment, they are unable to transmit the virus.
Because of this, we have high expectations to reach as many PLHIV as possible with ARV treatment with a goal to reach more than 1.2 million people on treatment in Tanzania in the next year.
That allows us to get to the level we call epidemic control. That, when someone is stable and on treatment, it allows them to make the viruses not be transmissible to other people from them (those who are HIV-positive).
So, this has a great preventive effect, to keep all HIV positive individuals on treatment. Now we are trying to look at who comes into the services. We are not simply looking at the 1.4 million people living with the virus.
We are also looking at where the gaps are, trying to see how that breaks down into various categories, such as men and women, adults and children and son on. A big part of that scale up is identifying the populations that are not yet accessing ARV treatment, which includes adolescent girls, men and Dar es Salaam.
Our partners are working in facilities across the country to gear programmes to these populations by adjusting clinic hours and providing more friendly services.
But also Dar es Salaam is one of the areas we have had a challenge with--not many people are accessing the services as we wish they should.
Why is Dar es Salaam challenging?
It has a large population, and that population comes and goes out of the city into the rural districts. Keeping track of those individuals and making sure they are kept on the services is not easy. They might actually be found positive and be kept on treatment but accessing treatment may then be a problem for them.
What data are you relying on to describe that?
We are working very closely with the government of Tanzania on the data. Our partners get that data from the government and we have confidence in those numbers.
We also help build systems. We have been working with the government over the years to build the monitoring and evaluation system. The challenge actually lies in trying together thousands of sites into one single database.
What's the total investment (in terms of money) in HIV/Aids programmes by PEPFAR in Tanzania currently?
Our annual planning level is $526 million (Sh1, 180,870,000,000), with such funds we will look to test more than 8 million Tanzanians, including 1.2 million pregnant mothers and as previously mentioned to put 1.2 million people on treatment with ARVs.
As you said, it's somehow an ambitious target but it's achievable. In order to achieve those goals we will have to work closely with the government. This funding also helps to build the overall health systems, improve labs, and work with high risk populations like orphans and vulnerable children.
The US Government through PEPFAR had injected nearly $20 million in cooperative agreements to support Tanzania's Medically Assisted Therapy (MAT) for opioid addiction programme in Tanzania. To what extent has this funding helped Tanzania in achieving the goals? Has this funding been increased? To what extent and why?
PEPFAR since 2009 has been working in Tanzania to provide services to injecting drug users (IDUs) who are at incredibly higher risk to contract the disease. We really see them as a critical group of people.
They are extremely at higher risk of acquiring HIV than other groups, in terms of the transmissibility of the virus. There are harm reduction strategies that have been employed with government approval, including setting up Methadone clinics in Dar es Salaam, Zanzibar, Mbeya, and soon to start in Mwanza. In those clinics IDUs can also be tested and receive ART if they are HIV positive.
The programme has been very successful and the government is now extending those services to other cities in the country like Dodoma. It's a challenging topic but its' the one that we have had great successes with in terms of the numbers of people who have been coming in to access the services.
In May, president Trump's Administration announced a proposal to cut the budget for PEPFAR for 2018. In what way are you adjusting to these budget changes as you continue fulfilling the commitments you have for Tanzania?
It's difficult to say because the federal budget for Financial Year 2018 is still being debated in the US Congress. It should have started October 1, but there are resolutions still being made and they are still working on last year's budget. So I can't give definitive numbers on what that will mean for Tanzania.
But as Congress debates that, they will take into consideration the reductions that were proposed and determine whether they will stay or not. But I can't say what that really means for Tanzania now.
But recently at the United Nations General Assembly, Secretary Tillerson announced the new PEPFAR strategy that outlined how we will reach epidemic control. The strategy highlighted 13 countries, including Tanzania, where it is expected that epidemic control will be reached by 2020.
The US government recognizes that this will require sufficient resources to ensure that those who are put on treatment will continue to have access. So, the funding for Tanzania should remain fairly stable but again, let's see what comes out of Congress.
So, will I be correct to say that we should not expect HIV/Aids programmes for Tanzania to be disrupted as we await the resolution of the US Congress?
We don't expect Tanzanian programmes to be disrupted.
In February, this year, there was an announcement from the US-embassy in Dar es Salaam, warning that Tanzania's decision to ban HIV/Aids services at about 40 facilities and introducing new guidelines for Key Populations (KP) could flare up the epidemic among those afflicted. Did you track down if there was any impact after the government's decision? Or did you engage the government on this? How did you go about this?
So, we continued to talk with the government and as a result, they issued new guidelines in April, which allowed us to get back to providing services that we had before, with a few exceptions. It has allowed us to get back so that services can be provided to all people with HIV without looking at who or what they are. That's a good thing, that we are now also able to provide the services.
The US government continues to work with the Government of Tanzania (GoT) to ensure that services are available for all PLHIV.
With new GoT guidelines approved in April, our community programmes that focus on high risk populations were able to reinitiate, allowing us to work with the government to ensure that all PLHIV have access to HIV services.
Are there specific services that were disrupted after the decision to stop the services was announced by the government?
Within the guidelines, there were activities that were no longer allowed and now we abide by those guidelines. PEPFAR and our implementing partners are abiding by those guidelines and we are achieving the results, making sure those individuals get treatment services.
There are a lot of services that we are -there is community programs, HIV testing and linking individuals into services and making sure that we have those services that they want, according to the guidelines.