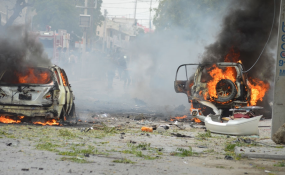 Photo: Abdirizak Mohamud Tuuryare
Following devastating terror attack in Mogadishu last Saturday killing and injuring several hundred civilians, EU reaffirmed strong and long standing commitment to support Somalia and its people in a telephone conversation Friday with President Mohamed Farmaajo of Somalia.
High Representative Federica Mogherini expressed her condolences to all those affected by the attack, recalling that the terrorism is a common threat which must be tackled in partnership, her office said in a press release.
She highlighted the EU's immediate support in the aftermath of the attacks; initial humanitarian aid has been mobilised for rapidly increasing medical needs and two ships of the EU Naval Operation ATALANTA, and EU flights have been delivering emergency medical supplies for Mogadishu hospitals.
Mogherini stressed that the attack cannot deter important achievements over recent years in the country and the need for the President, the federal government and the federal member states to work together in the fight against terrorism and to increase security and development for the people. She confirmed that the EU remains determined in supporting this agenda.