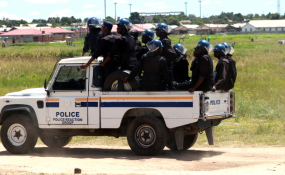 Photo: The Standard
Kezi — Police here on Saturday bared Zapu President Dumiso Dabengwa from attending a Gukurahundi atrocities commemoration.
A local community-based organization, I Bhetshu Likazulu, had organized the commemorations which were supposed to be held at Bhalagwe, Kezi in Matebeleland south.
Police had earlier on sanctioned the public event.
Bhalagwe is one of the many sites Gukurahundi massacres which were perpetuated by President Robert Mugabe in the early 1980's in Matebeleland and Midlands provinces.
The former Home Affairs minister and his entourage were blocked from going to the site of the commemorations.
Zapu spokesperson, Mjobisa Noko, told New Zimbabwe on Saturday that they were frustrated by this development.
"We would like to condemn this type of attitude shown by Mugabe and his government and to us this shows that he has more to hide and his ministry of national healing is just to hoodwink the Zimbabweans into believing that he has repented," said Noko.
"It is Zapu's right to visit these sites like any other sites that are being visited in and outside the country. We refuse to be intimidated; enough is enough and as Zapu we want the issue of Gukurahundi to be brought to closure and we are calling for the creation of a truth and reconciliation commission," he said.
President Mugabe, in the early 1980s, unleashed the North Korea-trained Fifth Brigade on the people of Matebeleland and Midlands who killed over estimated 20 000 civilians under the pretext of hunting down armed dissidents.
But, as it later turned out, the government troops were after the civilian population whom they forced to denounce Zapu (a party of their choice) and to sing Mugabe's praises before some of them were flogged and killed publicly for no apparent reason other than they spoke Ndebele.