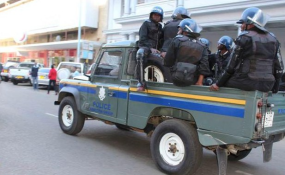 Photo: 263Chat
Gweru City Council will, this Monday, carry out a blitz on illegal vendors with the help of riot police, New Zimbabwe has established.
Town Clerk Elizabeth Gwatipedza gave vendors until Sunday to vacate illegal bays or risk having their goods confiscated.
"Notice is hereby given that all vendors who have deserted their legal vending bays should return to their bays by 22 October 2017,"Gwatipedza said in a notice.
"All illegal vendors who are trading in the streets of Gweru and need legal trading space should apply to council and should move out of the streets by 22 October 2017. Thereafter council will confiscate goods that are being sold on illegal vending points without further notice."
Gwatipedza said push carts including motorists selling goods from their vehicles had been banned from the central business district.
She warned that after the deadline such cars would be clamped by council officials.
Council officials on Friday warned that the blitz would be supported by law enforcement agents and urged vendors to observe the deadline to vacate the streets.
President Robert Mugabe recently ordered the blitz on vendors accusing informal traders of messing up the cities.
But National Vendors Union Zimbabwe chairperson Sten Zvorwadza said Mugabe was "daydreaming" in banning street vending as many people were forced into the streets as a result of the economic crisis facing the country.
Two weeks ago there were skirmishes in Harare after vendors clashed with municipal and riot police.