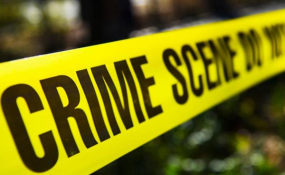 Photo: Daily Monitor
By Tendai Rupapa
Four men allegedly stole a pistol from a security guard who was on duty and used it to commit robberies in Harare, getting away with jewellery and valuables worth over $100 000 and $3 000 cash.
It is alleged that after robbing the guard of his gun at Eastip Chicken Abattoirs, Decide Rice, Godknows Shumba, Shadreck Kabanga and Alvin Matinhure then hatched a plan to rob Puma service stations in Harare using the gun.
The gang allegedly robbed a Borrowdale family at its Harare house and went away with two more pistols, clothing, jewellery and cash. Shumba, Kabanga and Matinhure have since been arrested and brought to court charged with robbery. They were denied bail and are in custody pending trial.
Rice, who was in hiding, appeared in court last Friday before magistrate Ms Josephine Sande facing four counts of robbery. He was remanded in custody with instructions to approach the High Court for bail due to the gravity of the offences he was facing.
Harare lawyer Mr Tawanda Takaindisa is acting on Rice's behalf. The gang will be back in court on Wednesday. Prosecuting, Mr Sebastian Mutizirwa alleged that on May 10, the gang went to Eastip Chicken Abattoirs during the night and confronted the security guard who was at the gate.
One member of the gang snatched his pistol before they all ran away while the guard gave chase. He finally caught up with them and was severely assaulted, the court heard.
On June 1, armed with the pistol, the four went to Puma Service Station in Whitecliff where they allegedly manhandled the security guard and the fuel attendant.
They searched the two complainants and stole their mobile phones and $650 cash. It is the State's case that after some few weeks, the suspects proceeded to Puma Service Station in Snake Park armed with a pistol.
When they arrived, they threatened to shoot the two fuel attendants, Timothy Mupinyori and Kudakwashe Katyaurere. One of the robbers fired a shot on the ground to scare the duo before force marching them into the shop.
They allegedly stole their mobile phones, $371 worth of fuel coupons and $600 cash. On August 27, the four went to a house in Borrowdale pretending to be hay buyers.
They were taken to the horse stables and while the complainants were showing them around, the gang suddenly withdrew two pistols and threatened them with death.
They tied all the five complainants' hands using strings. According to the State, the gang force marched the complainants into the main house and ransacked the house.
They allegedly went away with two pistols, assorted jewellery, several cellphones, clothing and $1 500 cash. The total value of property stolen is $134 875 and only goods worth $3 000 were recovered.