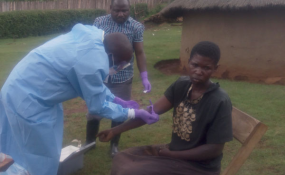 Photo: Joyce Chemitai/Daily Monitor
By Joyce Chemitai & Emmanuel Ainebyoona
KWEEN/KAMPALA — The task force helping to fight Marburg spread in Kween District, eastern Uganda has asked police to hunt for Joseph Cherungu, an adult of Kamwam Village, who has reportedly been one of the key caretakers of the last Marburg victim.
He is a brother of the late Catherine Chemayek and late Alfred Cherop who were confirmed to have died of Marburg virus attack. The Isuzu truck belonging to Mr Cherungu is said to have transported the body of his late sister to Moyok Sub-county where she was buried.
The blood samples of his sister, Chemayek, 52, were confirmed positive of the Marbarg virus by laboratory technologists at the Uganda Virus Research Institute, Entebbe whereas Cherop's blood samples were never obtained before burial and the cause of his death is being treated as a probable Marburg case.
Threat to others
The Kween District chief administrative officer, Mr Michael Mwanje, said Mr Cherungu remains a health threat to his family and community and should not risk lives of innocent people.
"We have tried to reach him in vain. When he answers phone calls, he says he is in Bukwo [District]. Sometimes he says he will come to the hospital the next morning but we are tired of waiting because his wife has hinted that he is not very well and we need to be sure by having a clinician check him as well as take his blood sample," Mr Mwanje said.
In her update on the ongoing Marburg outbreak at a press conference held at the Ministry of Health headquarters yesterday, Dr Jane Aceng, the Health minister, said her team on the ground was monitoring a total of 55 persons who are suspected to have come into contact with the first probable case.
"As of today, the cumulative number of cases remains at three, with one confirmed case, one suspected and one probable case. Our teams have line-listed up to 55 contacts for follow-up. Thirteen of these have completed the 21-day follow-up from the time of death of the probable case, while the other 42 remain under close monitoring.
Dr Aceng also said the country will this week be host to the Global Health Security Agenda (GHSA) which is aimed at supporting countries to build their capacity to prevent, detect and respond to emerging and re-emerging infectious diseases and public health threats and contribute towards a safe world for all.
She said the conference coincides with the time when Uganda has an active outbreak of an infectious and potentially a high mortality disease.
She added that the conference will be hosted at the Commonwealth Resort, Munyonyo between October 25 and 27.
She assured the delegates of their safety, saying Kween, a district where the outbreak has been confirmed, is 311km away from the capital Kampala and therefore poses no threat to the conference participants.
She said the isolation wards established at Kapchorwa District Hospital and Kaproron Health Centre IV in Kween District remain vacant with no patient admitted.
By yesterday, a team of Ministry of Health task force was still moving around the five villages of Kaptum, Kamwam, Sundet, in Kaproron Sub-county and Moyok in Moyok Sub-county to mobilise locals against the disease.
A team of epidemiologists had visited Tuyobey Cave in Kaproron Sub-county to conduct an ecological investigation where the first probable victim who was not tested reportedly contracted the virus.
Dr Luke Nyakarahuka, an epidemiologist said they were talking to family members to understand how Cherop had got ill since they live around the cave.