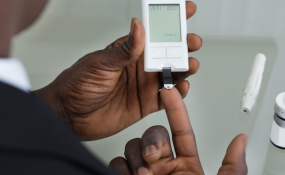 Photo: Daily Monitor
By Chioma Obinna
Lagos — Minister of Health, Professor Isaac Adewole, has raised the alarm over high prevalence of diabetes among Nigerians, disclosing that the country constitute a quarter of 15 million cases of diabetes in Africa.
Speaking in Lagos at the 2017 SANOFI Diabetes Summit, Adewole, said despite the fact that the disease had been a major cause of end stage renal disease and one of the commonest causes of blindness, it also shortened individual's lifespan.
He noted that while 80 percent of its victims die of cardiovascular complications ranging from stroke, myocardial infarction and kidney failure to foot gangrene, one in every 11 adults had diabetes and up to half of these were not diagnosed.
His words, "Less than 10 per cent of people diagnosed with diabetes meet the targets of metabolic control. Yearly there are five million diabetes and diabetes related deaths and every 10 seconds a limb is amputated due to diabetes. In fact diabetes is now the most common cause of lower extremity amputation. Unfortunately many of these lives are lost at the peak of their prime in the fifth or sixth decade of lives with the attendant devastating effect on the family unit or the nation as a whole.
Represented by the Chief Medical Director, Lagos University Teaching Hospital, LUTH, Prof. Chris Bode, Adewole said the disease remained one of the costliest conditions to treat, saying
"The importance of these has made the Federal Ministry of Health to put in place an NCD Office, complete with staff and other resources and a Diabetes Desk Officer. The FMOH has also partnered with the World Diabetes Foundation, WDF to set up almost 390 diabetes clinics nationwide while other projects include 175 clinics providing GDM care, 60 clinics providing Diabetes/TB care."