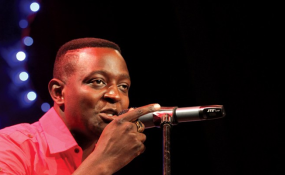 Photo: The Herald
Prominent musician, Sulumani Chimbetu who is struggling to pay alimony fees for his two children with his first wife is seeking downward variation of the dues from $800 to $200 per month.
Chimbetu has been dragged to court several times on allegations of defaulting paying $800 in maintenance fees.
In his application which is in possession of New Zimbabwe, the musician complained that the amount was too much adding that he was not gainfully employed.
He said his wife is covering most of the expenses including paying rentals and buying groceries.
"I have three other minor children who all look up to me for survival besides the two I have with the defendant. I'm faced with current bills all by myself, $550 being rentals, $600 school fees for the three children, $200 monthly groceries, $100 for the maid, $150 per month in school uniforms, $300 every six months for casual wear, $150 medical aid and $800 in maintenance," he said.
"The respondent is simply sitting on her whims doing nothing; she survives and thrives on the maintenance money; she has not demonstrated to this court what it is that she is doing to contribute to the monthly needs of the children.
Chimbetu said that his ex-wife was doing nothing with regards to searching for employment adding that she frequents places of entertainment while bragging that she has no need to go to work as she is earning more than civil servants.
He said his musical shows are not bringing any reasonable income since 150 to 200 people attend the shows compared to crowds of over 700 people he would pull long back.
He added that he also has to pay band members.
"I'm an employee of Orchestra Dendera Kings Pvt Ltd which is a registered company... my current salary is $750."
According to the state, on December 19 last year at Harare Civil Court, Chimbetu was ordered to pay $800 every month towards the upkeep of his two children with Marygold Mutemasango.
According to the order Chimbetu was required to deposit the money into Mutemasango's bank account with effect from December 31 2016.
He appeared twice in court over defaulting payment of maintenance.
Chimbetu is expected to appear at the Harare Civil Court on October 30.