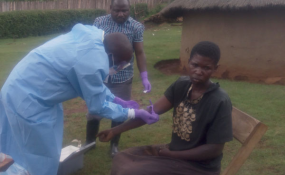 Photo: Joyce Chemitai/Daily Monitor
editorial
By Editor
Top scientists, academics and Health ministers or equivalents from around the world will this morning begin intense conversations in Kampala on how to guarantee global health security. The theme of the three-day symposium is: 'Security for all: Engaging communities, non-governmental organisations, and the private sector'. The theme and timing could not be more apt. Uganda is grappling with containing a Marburg outbreak in Sebei sub-region. The hazard zone straddles the Uganda-Kenya frontier, making cross-border transmission possible.
People at the border share heritage, criss-cross for business or to meet relatives. Therefore, empowering communities with factual information, mapping vulnerable areas, developing rapid response capabilities and exploring preventive ways will help insulate millions against epidemics.
Citizens can only be productive if they are healthy, establishing the nexus between health, economic productivity and wealth creation. We underline that a diseased population equals poverty. The latter is not where Ugandans want the country to be. This is why we welcome and underscore the significance of today's high-level meet in Kampala.
The true value of the Global Health Security Agenda (GHSA) conference will be its outcomes and their actual implementation. At a gathering like this, leaders are tempted to pledge even when unsure they will fulfil the commitment or certain that they won't. Let those gathered today at the Commonwealth Resort Munyonyo be different.
Our endorsement of the symposium is contingent upon it yielding dividends for all, not just some, in the world.
Uganda's worst Ebola episode in 2000 prepared it to build resilient detection, response and control mechanism to impressively manage future epidemics, including the current Marburg occurrence. Its pioneering role in reducing HIV/Aids prevalence rates from double digits to below 6 per cent, made it a global poster child on tackling the pandemic.
As we welcome these feats, we demand no complacence. The country must intensify epidemiological surveillance. Keeping all-round reconnaissance will immunise land-locked Uganda from the adversity of epidemics spill-over from gigantic neighbouring countries with less elaborate health care system. In a statement yesterday, the Health ministry demanded GHSA participants to "accelerate progress toward a world safe and secure from infectious disease threats; promote global health security as an international priority; and, facilitate progress toward full implementation of the World Health Organisation (IHR, 2005) and other relevant global health security frameworks".
We identify with this instructive clarion call. Taming epidemics obliges countries to act in conformity on prevention and or control measures. Human mobility means no country can be safe when another is health insecure.