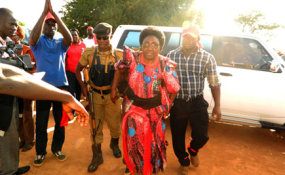 Photo: Isaac Otwii/Daily Monitor
By Sadab Kitatta Kaaya
The ruling National Resistance Movement party top-most decision making organ, Central Executive Committee (CEC) has unanimously endorsed the age limit amendment bill.
According to a press release by the acting secretary general of the party, Richard Todwong, CEC adopted three resolutions including; to fully support the Constitution (Amendment) Bill (No.2) 2017 tabled recently by Igara West MP Raphael Magyezi.
The members also agreed to popularise their decision to support the bill to all structures and membership of the party and to the entire country, guiding and mobilising them to support the amendment.
The bill seeks among other to lift the presidential age limit currently capped between 35 and 75 years.
CEC has also called on Ugandans to respect and be tolerant to those with the divergent views. The amendment has received hostility from a big section of Ugandans.
According to credible sources, the CEC members where not allowed to freely debate the contentious matter and in the end, Museveni who is also NRM chairman asked the CEC members to support the bill and also to popularize it.
Museveni reportedly dodged the first part of the meeting, leaving his deputy Alhajj Moses Kigongo to chair in an apparent move to soften their hard stance before Museveni came in.
At least four members namely, Matayo Kyaligonza (Western), Godfrey Nyakaana (Kampala), Gaddafi Nasur (Youth League), Simon Aleper (Karamoja) were opposed to the amendment.
Other sources quoted six of 29 CEC members who were openly opposed though the names could not readily be established.
According to sources, some members asked Museveni why he chose to work with the parliamentary caucus and sidelined party structures.
In response, Museveni said that it was inevitable to for him to work with the caucus since the bill was initiated by a private member.
It was at this moment that Museveni asked the CEC members to support the bill.