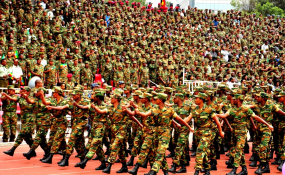 Photo: Ethiopian Herald
By Tsegay Hagos
The various awards Chief of Staff Gen. Samora Yenus received is the result of the dedication of the entire defense force.
The Ethiopian National Defense Force (ENDF) has received international accolades and recognitions for the sacrifices it has been paying to ensure dependable peace and security at home, in the Horn region as well as other parts of the continent.
ENDF various commands, Ethiopian Air Force and other divisions have congratulated ENDF Chief of Staff Gen. Samora Yenus on Tuesday on the various awards he received.
Heads of the various sections have expressed their delight with the honorary professorship China University of Technology bestowed upon Gen. Samora Yenus in 2015; the highest military award the Sudanese President Omar Hassan Al-Bashir granted to him and the honorary doctorial degree Sudanese University has conferred on him, both in September this year.
"The awards are showcases to the successful contribution of ENDF at home and in other African countries under his efficient leadership," the military chiefs hail.
Beyond discharging the responsibilities bestowed up on the defense force by the Nations, Nationalities and Peoples of Ethiopia, ENDF has been working round the clock to lay the country's fast economic growth and democratization on a sustainable base. It has also been accomplishing its missions under the umbrella of UN and AU in maintaining peace and stability of neighboring and other African countries.
The defense force has been equipped with latest technology and knowledge so as to make it integrate and maneuver various missions.
For his part, Gen. Samora says post Derg Ethiopia has formed defense forces which represent the various nations, nationalities and peoples. "The defense force has been serving the interests of both the people and the government."
ENDF has been accomplishing remarkable jobs as per of the Foreign Affairs and National Security Policy and Strategy, he stresses, underscoring that the awards also depict the hard works of all the forces.
He added that the award would help boost the confidence of ENDF to further execute its responsibilities.