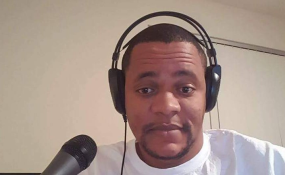 Photo: Facebook
Monrovia — Famous radio talk show host Henry Costa narrowly escaped mob action by angry traders on Mechlin Street in Central Monrovia whom he believe are members of the Coalition for Democratic Change (CDC).
But the while the party has condemned the attack, they also pointed out that there is no evidence to that those who carried out the attack are members of the party.
Mr. Sam Mannah, spokesman to Senator George Weah told this paper that he believes those who carried out the attack were aggrieved citizens expressing their disenchantment against Costa.
He, however, added that the political leader of the CDC does not condone such acts.
Narrating his own ordeal, Costa said the traders, who once saw him as a hero and always cheered him up whenever he was in the area, ganged up against him when decided to greet them as usual.
"This group of people who sell there on Mechlin Street... I normally run into them and they'll be cheering me up like a hero, like I'm their idol, but today it was very different, I went into the meeting and when I came outside I saw this angry crowd, you could see the viciousness in their faces - they were roughly about 40 people, men and women, young and old and they were angry and they were shouting at me, very angry," he narrated his ordeal.
According to him, the mob threatened to burn his house and car if he continued speaking negatively against Senator George Weah, standard bearer of the opposition Coalition for Democratic Change (CDC).
He said the mob threw sachets of water at him and he escaped the scene through the back door of the building he was in, notwithstanding, the mob chased his vehicle.
He lamented people who have different views from the CDC would not be tolerated under a CDC-led government.
In a statement, Senator Weah in a statement condemned the action against Costa, describing it as "despicable and unsavoury behaviour".
In a statement, Sen. Weah, who is currently in Nigeria said, "I would like to in this public manner condemn such despicable and unsavoury behaviour.
Such act should have no place in our body politics and our society as a whole. I hereby distance myself and our political institution from this act of violence; and any action geared towards the suppression of freedom of speech and freedom of the press."
The CDC standard bearer noted that political differences should never lead to violence against fellow citizens.
"This is one of the anti-democratic practices we have fought against as an institution; and the very tenets of democracy that we have fought for over the past decade, therefore we stand against any action that has the propensity to derail the gains we have made in this regard," he added.
He iterated that the CDC is a signatory to the Farmington River declaration which is geared towards maintaining the peace.
"Therefore, we remain committed to that effort. In furtherance of this, I would like to emphatically state that the CDC embraces press freedom and will not tolerate any act of violence against any media practitioner or media entity."
Weah: "It is my fervent hope that our common heritage as Liberians will continue to bind us together and that our diverse political views should never stand in the way of the unity we share, the peace we are proud of, and the true tenets of democracy we espouse.
Once again, I condemn this act against Mr. Costa in the strongest term; and hope that we will learn to be tolerant of others' views; as we strive for a United Liberia where all can live in peace and harmony despite our political views and social status."