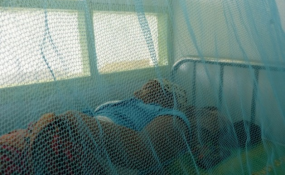 Photo: Mercedes Sayagues/IPS
By Winnie Atieno
Malaria cases are still being reported in Lamu County, with expectant mothers at high risk of infection due to lack of antenatal care following the nurses' strike and the rains pounding the Coast.
The rains, according to the weatherman, might cause flooding in various parts of the Coast.
Rain is likely to be experienced in low-lying areas near the coastline, rivers and dams.
HEALTH OFFICERS
A weather report issued by the Kenya Meteorological Department stated that from Monday, heavy rains of more than 40 millimetres in 24 hours were expected to intensify in Kwale, Mombasa, Tana River and parts of Kilifi counties.
They were expected to last for three days.
Lamu county health officials, however, said they are on a high alert to avert any calamities.
MOSQUITO BREEDING
The county is still grappling with malaria, barely a month after the national government reported an outbreak of the disease in five devolved units.
Lamu director of health services David Mulewa said the heavy rains are providing fertile ground for mosquito breeding.
Dr Mulewa said expectant mothers are most at risk due to lack of antenatal care following the nurses' job boycott that has paralysed public health institutions, with most dispensaries having been closed.
NETS
He added that children below the age of five years were also most at risk.
"According to our data, some 28 cases tested positive in August. That was the upsurge of malaria cases but in September we did not get a threshold to term it an outbreak. Witu is the only ward where we noted an increase in malaria cases," he said.
Dr Mulewa said the Health Department issued mosquito nets to expectant mothers when they attended antenatal clinics.
However, the nurses' strike affected the services.