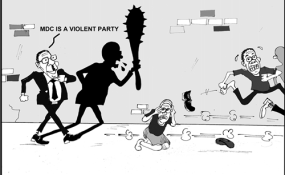 Photo: New Zimbabwe
The Zimbabwe Electoral Commission (ZEC) should disqualify parties found sponsoring violence, a leading NGO has dared.
The call comes in the wake of the attacks on properties of MDC supporters over the weekend by Zanu PF supporters to intimidate advocates and participants in the on-going biometric voter registration (BVR).
The Election Resource Centre (ERC), which recently launched an elections barometer to record such rights violations, said such barbaric behaviour defeats the purpose of democracy and results in contested election outcomes.
"These acts of intimidation and violence threaten the right of people to exercise their constitutionally guaranteed freedoms of peaceful assembly, expression and association, under Section 67 of the Constitution of Zimbabwe," said the organisation in a statement Wednesday.
"Tolerance of divergent views and opinions is a crucial pillar of democracy. In addition these acts are liabilities to the international principles of voter registration such as comprehensiveness, inclusivity and credibility."
ERC said ZEC should compel political parties to sign a code of conduct which the body can then use to enforce democratic principles.
"ZEC must be prepared, dependent on the severity of the incidents of the human right violations, to suspend all electoral processes limited to the areas affected, until free participation of citizens in the voter registration exercise has been guaranteed in line with Section 155 of the Constitution," said ERC.
"ZEC must immediately take administrative measures, which are within its mandate, to compel all political parties to sign the Code of Conduct of Political Parties and submit themselves to consequences prescribed at law in the event of violation of the Code either by political parties, their aspiring candidates or supporters."
ERC's call centre has reportedly recorded a sharp increase in intimidation and violence since the beginning of the voter registration exercise.
ERC said ZEC, the Zimbabwe Human Rights Commissions (ZHRC) and the police must uphold the law, protect human rights and set up investigative committees mandated to address violence in preparation of peaceful, free and fair elections.
"Proactive and reactive action to quell the alleged disturbances is of high priority if the credibility and constitutionality of our elections is to be protected," ERC said.
Meanwhile, the MDC concurred with ERC further saying Zanu PF has proved that the country's democratic values and constitutional obligations are far from ideal.
"Zanu PF hooliganism should be castigated in the strongest terms, there is no room for political intimidation and violence in our country. Zimbabweans should be free to choose their leaders without fear," said Kurauone Chihwayi, MDC national spokesperson.
There have been media reports of traditional leaders who are demanding serial numbers from registrants and withholding food aid from known opposition supporters
"Citizens should be assured and reassured that their vote remains an individual secret and they should not believe those who say the BVR lets their individual vote be known by anyone else," said Chihwayi.