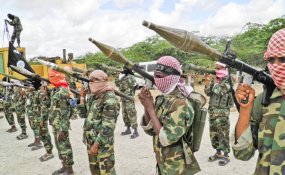 Photo: The Star
20 Killed In Alshabaab Ambush On Amisom Convoy Near Mogadishu Ten students are among twenty people killed when heavy fighting erupted outside Mogadishu after ambush was laid on an Amisom convoy.
The students and their teacher were killed in a retaliation attack that followed the ambush.
Helicopters were seen at the scene airlifting injured Amisom troops.