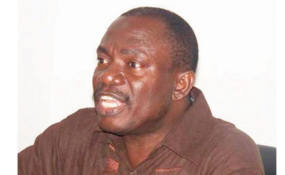 Photo: Liberian Observer
By N. Dweh Nimley
Defeated Montserrado County District #16 Rep. Edward Forh Wednesday rejoined the Coalition for Democratic Change (CDC).
Rep. Forh contested in the just-ended October 10, 2017 election on the ticket of the People Unification Party (PUP) but lost to Dixon Seboe of the CDC. Ford contested on the ticket of CDC in 2005 and 2011 and won.
Speaking to legislative reporters, Rep. Forh said "I am a founding member of the CDC and is only good to come back to my party."
The Coalition for Democratic Change is a conglomeration of three political parties including Congress for Democratic Change (CDC), Liberia People Democratic Party (LPDP) and the National Patriotic Party (NPP).
The defeated lawmaker described CDC as an institution he loves and cherishes since its formation in 2004.
Forh said he only left the party after he lost CDC primary and decided to contest on the ticket of PUP, since it (PUP) never had any candidate in the district.
Quizzed by journalists while he decided to rejoin the CDC, he said CDC is his party and at no point in time was he suspended or expelled from that institution.
He indicated that he spoke with House Speaker Emmanuel Nuquay of the ruling Unity Party about his decision to return to the CDC.
He pointed out that he and Senator George M. Weah, Standard Bearer of CDC have strong relationship, adding that district politics is different from national politics.
The lawmaker said it is important to look at the goals and aspirations of the party.
Commenting further, Forh said it is important for people to accept the elections results despite some irregularities associated with the process.
Liberia, he said, will survive after President Ellen Johnson-Sirleaf, and those wishing to bring about division should find something better to do, because the CDC is an institution that puts Liberia and Liberians first.
Forh expressed optimism that CDC will emerge victorious in the pending presidential run-off due to the current political trend.