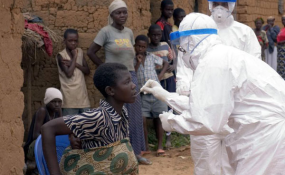 Photo: Daily Monitor
By Our Reporter
The Marburg patient who had gone into hiding has died.
Last week, the task force helping to fight Marburg spread in Kween District, eastern Uganda had asked police to hunt for Joseph Cherungu, an adult of Kamwam Village, who had reportedly been one of the key caretakers of the last Marburg victim.
He was a brother of the late Catherine Chemayek and late Alfred Cherop who were confirmed to have died of Marburg virus attack. The Isuzu truck belonging to Mr Cherungu is said to have transported the body of his late sister to Moyok Sub-county where she was buried.
The blood samples of his sister, Chemayek, 52, were confirmed positive of the Marburg virus by laboratory technologists at the Uganda Virus Research Institute, Entebbe whereas Cherop's blood samples were never obtained before burial and the cause of his death is being treated as a probable Marburg case.
The Kween District chief administrative officer, Mr Michael Mwanje, said Mr Cherungu was a health threat to his family and community and should not risk lives of innocent people.
"We have tried to reach him in vain. When he answers phone calls, he says he is in Bukwo [District]. Sometimes he says he will come to the hospital the next morning but we are tired of waiting because his wife has hinted that he is not very well and we need to be sure by having a clinician check him as well as take his blood sample," Mr Mwanje said last week.
In the latest update on the ongoing Marburg outbreak, the ministry of health in a Thursday press statement said the number of cumulative cases has grown to 15 - two of which have been confirmed, four suspected, three probable cases and six ruled out.
"In Kween district, our team managed to get a high risk contact who has been in hiding and was found to have developed Marburg-like symptoms. This patient is a 38-year-old male, brother to the confirmed case and the probable case. Because of his close contact with the probable and confirmed cases, he was listed as a high risk contact. However, he refused review and follow-up by the contact tracing/surveillance team despite several attempts to do so. On the 24 Oct 2017, however, he accepted to speak to the contact tracing team which noted that he had developed Marburg-like symptoms," read part of the statement issued by the ministry's Public Relations Officer Ms Vivian Serwanjja.
According to Ms Serwanjja, the suspect was transported to the isolation unit with fever, body weakness, abdominal pain, loss of appetite, joint pains and history of vomiting blood while at home.
"Despite the tireless efforts from a dedicated case management team to revive this case, he unfortunately passed away earlier today (Thursday)," she added.
She further noted that a blood sample picked from Cherungu was sent to Uganda Virus Research Institute and tested positive for Marburg Virus Disease.