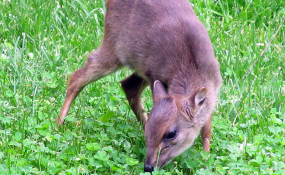 Photo: Wikipedia
A pregnant blue duiker that had its hooves and horns cut had to be put down because of the excruciating pain it was suffering, a KwaZulu-Natal animal rehabilitation centre has said.
The Centre for Rehabilitation of Wildlife (CROW) said what it believed to have been an attempt to domesticate the duiker resulted in the animal experiencing unbearable pain.
CROW spokesperson Paul Hoyte on Thursday told News24 that the heavily pregnant duiker was dropped off at the centre by a member of the public who found it in distress. The South Coast resident said the animal had taken refuge in their yard.
"Following a thorough physical examination, it was discovered that the blue duiker's hooves had been cut down to the nerves with some sort of cutting tool or from being housed on a concrete floor. This resulted in excruciating pain and stress for the duiker, which [was] compounded by her pregnancy."
Hoyte said it was a growing trend for people to keep wild animals as pets. He however warned that this was detrimental to the animals.
"Frighteningly, these cases are common, featuring the filing down of teeth, horns, and hooves, as well as the docking of tails and ears for aesthetic purposes."
He said people rationalised their actions by saying they were a way of safeguarding their children or pets from the hazards of keeping a wild animal as a pet.
Duiker left 'defenceless'
Hoyte characterised this form of domestication as maiming, saying that the removing of important parts of an animal was considered illegal.
"For example, teeth pulling, cutting and pulling out of claws or nails [is illegal]."
He added apart from causing pain that the "maiming" of the duiker had left it defenceless.
"Her horns had been filed down, taking away a duiker's only line of defence when faced with a confrontation - this only adds more stress on this defenceless creature."
Hoyte said that due to the high levels of stress and pain suffered by the duiker, her unborn baby had died before any veterinary intervention was possible.
"Two lives lost because a person decided that they had the right to contain this animal against its will, perform inhumane acts of maiming and ultimately killing a mother and her unborn child. For what?
"Some people say they rescued an animal and were just trying to help. That's not good enough."
Hoyte said the trend of keeping indigenous wild animals and the trade and ownership of exotic wildlife, both legal and illegal, were growing at a rapid rate, with only a handful of organisations "on the forefront of this silent war".
"We are the smarter species, and I use that term loosely, we all have phones and internet. I urge anyone who finds a wild animal in need to contact their local wildlife authority or rehabilitation facility.
"Sometimes these animals aren't even in need and should be left where they are, or gently moved to a safer area. We all need to work together to ensure the preservation of wild populations."
News24