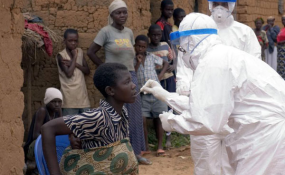 Photo: Daily Monitor
By Aggrey Omboki
Kenya is among the countries identified by the World Health Organization as likely hotspots for plague and Marburg outbreaks that have ravaged Madagascar and Uganda respectively.
WHO's latest update on plague outbreak identified nine countries as possible future points of contact with the disease should it spread.
"Nine countries and overseas territories have been identified as priority countries in the African region for plague preparedness and readiness by virtue of having trade and travel links with Madagascar," it said.
DEATH
So far the plague in Madagascar has claimed 124 lives.
About 1,133 people have been infected across the island nation, with the risk of further spread "very high", according to WHO.
The 2017-2018 academic calendar was recently suspended for the fourth time due to the epidemic.
SYMPTOMS
The agency has put Tanzania, South Africa, Seychelles, Ethiopia, Mauritius, Reunion Island, Kenya, Comoros and Mozambique on notice.
Global health agencies (Centers for Disease Control and Prevention, the European Centre for Disease Prevention and Control, the Red Cross, Unicef and WHO) have drawn up emergency plans in the risk-prone countries.
Plague symptoms include sudden fevers, head and body aches, vomiting and nausea.
MARBURG
Meanwhile, two people have died from Marburg in eastern Uganda in the country's first outbreak of the deadly Ebola-like pathogen in three years.
The haemorrhagic fever that causes severe bleeding, fever, vomiting and diarrhoea is one of the deadliest known pathogens.
Earlier on Thursday, Ugandan Health minister Jane Aceng confirmed one case of the virus disease, which led to the death of a 50-year-old woman.
"Prior to her illness and subsequent demise, the woman had nursed her 42-year-old brother who died on September 25 after falling sick with similar symptoms," Ms Aceng said.
DISEASE SURVEILLANCE
Kenya has implemented a raft of measures to shield itself against the virus.
The Ministry of Health has intensified surveillance in all points of entry and in counties bordering eastern Uganda such as Busia, Bungoma, Trans Nzoia and West Pokot.
Travellers arriving in Kenya undergo screening and are required to fill in surveillance forms.
Aircraft and ships from Madagascar and Uganda must submit health declaration forms.
Ships are also required to provide sanitation control certificates.