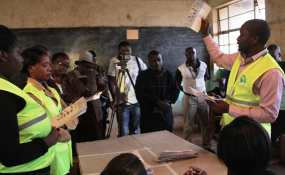 Photo: Capital FM
Voting in Kenya's repeat presidential election has closed in most polling stations.
Tallying of votes has already started in some centres where polling started on time with most of the ballot boxes being ferried to constituency tallying centres.
Balloting was mainly peaceful in the poll boycotted by the main opposition coalition, the National Super Alliance (Nasa).
However, the turnout was low in most polling stations as compared to the August 8 General Election, whose presidential poll was quashed by the Supreme Court, citing "illegalities and irregularities".
VIOLENCE
There were isolated incidents of violence in Kibera slums in the capital Nairobi, Mombasa and Nyanza, Nasa leader Raila Odinga's perceived stronghold.
The poll failed to take off in most parts of Nyanza after Mr Odinga's supporters staged demonstrations and vowed to attack election officials and voters.
They paralysed the poll even after the opposition chief asked them to keep off polling stations, stay at home and pray.
Four people were killed and more than two dozen injured in chaos that erupted after police confronted the protesters.
The Independent Electoral and Boundaries Commission (IEBC) later put off the poll in four counties in Nyanza to October 28.
Heavy rains, which have been pounding several parts of Kenya, also hampered and delayed voting in some regions — with some of the election materials being destroyed.
The bad weather also contributed to the low turnout that characterised the poll.
However, the electoral commission is yet give figures of the turnout.
Police maintained security in polling centres, with Kenya Defence Forces taking charge in some parts of Coast to ward off suspected attacks by Somalia-based Al-Shabaab militants.
The soldiers patrolled and manned roadblocks in Tana River, Malindi and Lamu counties.
President Kenyatta, who was celebrating his 56th birthday on Thursday, hailed the poll that also saw former Presidents Daniel Moi and Mwai Kibaki cast their ballots.
However, the opposition cast aspersions on the poll's credibility and condemned its postponement in Nyanza.