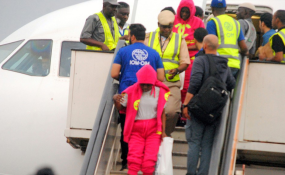 Photo: Premium Times
By Abdullateef Aliyu
Lagos — Another batch of 161 Stranded Nigerians have been repatriated back to the country with the assistance of International Organization for Migration (IOM) and European Union into the country less than 48 hours after 257 returnees arrived the country.
The Southwest Zonal Coordinator of NEMA, Alh. Suleiman Yakubu who represented the DG, Engr. Mustapha Maihajja received the returnees on behalf of Federal Government.
The breakdown of the returnees showed that 78 are female adults and 2 female infants while there were 71 male adults, five male children and five male infants. Two were with medical cases.
They were conveyed in a Boeing 737-800 aircraft with registration number 5A-DMG which landed at the Cargo Wing of MMIa, Ikeja at about 8 p.m. with the Returnees
The DG told the returnees that Federal Government is working with state government to ensure that they are well taken care off.
One of the returnees, Patience Ubosa 21, who was brought up in Benin but with parents from Akwa Ibom narrated how they drank fuel on their way to Libya in the desert.
The fuel was given to them by the driver when they were hungry, she narrated.
She further said that they saw a shallow well and rushed their to drink water though they had drank it all but later they found out that there are decomposing human bodies.
She said they successfully got to Libya but they couldn't cross to Europe through the Mediterranean Sea due to attacks by rival fishermen who were to assist them in crossing to Europe.