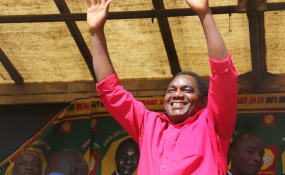 Photo: UPND
By Charles Sakala
Barely a few months after forging some cosmetic alliance, opposition leader Chilufya Tayali has turned against UPND president Hakainde Hichilema branding him an "imperialist wanting to mortgage the country."
Tayali is not new to mounting vicious attacks on Hichilema. Such attacks have occasionally landed Tayali in hot soup with UPND supporters.
Recently, Tayali was seen around Hichilema especially when the latter was incarcerated and later released for treason charges.
The not so influential Tayali, who is leader of EPP, jumped on Hichilema's arrest when he gained mileage by accusing the police of incompetence for the widely perceived politically motivated treason charges.
Tayali was even given the best legal counsel by the UPND who helped him secure a nolle prosequi in his battle with Police Inspector General Kakoma Kanganja.
That romance has melted into another fiery war of wods with Tayali sending shots at Hichilema. UPND supporters are not pleased with Tayali's stance.
HH IS AN IMPERIALIST SELL-OUT BUT ZAMBIANS WILL NOT ALLOW HIM TO SELL OUR COUNTRY LIKE HE SOLD COMPANIES
If you think, insulting me and issuing silly threats will silence me, you are joking. Not even President Lungu, who is in power can silence me, what more my fellow citizen like HH.
And those of you who were thinking you can cheat me that, you were with EEP to use me to install your god, you thought wrong because, I will politically crush the head of this imperialist stooge. You can't do a watermelon in EEP.
I will make sure, I get ride of all of you, using my "smart politics" (calculated politics) so that only those who truly believe in our liberal-socialism ideology which is centered on love your neighbour as you love yourself remains.
Yes, HH is my brother but for him, life is all about HH, which is why he lives alone in his castle while many people whom he wants votes from are dying of cholera but he does not care as long as they give him votes to get to state house.
Yes, HH is an imperialist stooge surrounded by the so called international community and western media. Look at how they are flocking to his castle like witchdoctors going to give him juju to win an election, but walla... they will tumble again in 2021.
GBM is my brother, but if he can snub Paramount Chief Chitimukulu just because he did not sympathize with HH, who am I to force myself on him. Ba GBM nomba ni ba GHH.
This is not about tribalism, but failure to reason properly, before HH, which many people fail to do when they get indoctrinated by HH-voodoo.
How do you neglect your own chiefs, but honor other chiefs, it does not matter from which tribe they are, charity begins at home. GBM messed up, he has taken politics too far, and the best that he should do is to apologize, otherwise he is an embarrassment to the Bemba people. GBM has chosen HH over his own relatives.
Mukose, because I am on you tight, you wanted me in politics, here I am, competing with you. Let HH go and talk bad things about Zambia before the imperialists, I will fry him here. Our good name can not be dented by one man, I am not happy with his propaganda.
I wanted HH out of prison but not as a President. I want to be President and serve Zambians, HH serves himself, that is why he is rich.