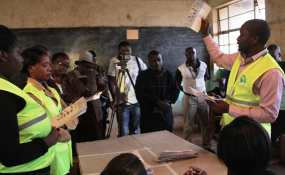 Photo: Capital FM
By Patrick Lang'at
Constituency returning officers have started streaming into the Bomas of Kenya, the fresh presidential election national tallying centre with hard copies of results they sent electronically.
Unlike in the annulled August 8 presidential poll, the Independent Electoral and Boundaries Commission (IEBC) has asked all its 291 returning officers to physically deliver their forms, as opposed to the case where the documents were sent electronically and downloaded at Bomas for a final announcement.
"Returning officers start arriving at the National Tallying Centre, Bomas of Kenya, with hard copies of the results they sent electronically," the IEBC posted on its Twitter account at 9am.
FORMS
As at 10.33am, the IEBC had received 36,949 out of 40,883 forms 34A-- the results declaration forms at the polling stations.
Similarly, the commission had received 101 of the 291 forms 34B, the results declaration forms at the constituency.
The presiding officers of each polling station, in the new results path gazetted by the IEBC, will tally and announce the result, simultaneously transmit it electronically to the constituency and national tallying centre, and then hand deliver the forms to the Returning Officer at the constituency.
At the constituency tallying centre, the Returning Officer will tally all the results from the polling stations under their jurisdiction, electronically transmit the results declaration Form 34B, and then hand deliver both forms to the Bomas of Kenya.
Mr Wafula Chebukati, the presidential election national returning officer, who is also IEBC chairman, will then collate all the forms 34B, verify the details as per the forms 34A for every constituency, and then announce the final result.
RESULTS
Notably, the commission, unlike the August poll, will announce aloud the constituency results instead of collating all the results, and just making one final declaration.
Since all forms have to be delivered to the Bomas of Kenya and announced one by one before the final declaration, the announcement of the final result might delay as compared to the August 8 poll when the announcement was made only three days after close of polling.
As at Thursday night, Mr Chebukati estimated that 48 per cent of the 19.6 million Kenyans (translating to about 9.1 million Kenyans) had voted in the repeat poll, and that 35,564 of the country's 40,883 polling stations opened for voting.
But later, Mr Chebukati, on his Twitter handle, brought down the figure of voter turnout.
"The 48 per cent was a BEST estimate turnout from the team. Latest actual figures from 267 constituencies show 6,553,858 Kenyans turned out to vote," Mr Chebukati tweeted on his Twitter account.
The IEBC has postponed to Saturday voting in of Kisumu, Siaya, Migori and Homa Bay counties.