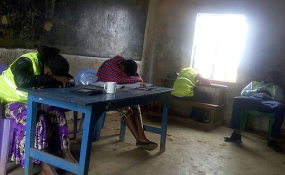 Photo: Nairobi News
editorial
Violence that has persisted in some parts of the country in recent weeks is quite alarming. On Friday, the Independent Electoral and Boundaries Commission was forced to put off elections that were to take place in four counties in Nyanza today due to fears of insecurity.
For days running, Kisumu, Siaya, Homa Bay and Migori counties have been the epicentre of incessant protests against the repeat presidential election and with tragic consequences. Indeed, political and religious leaders from the region had expressed concern that the repeat elections would spark another round of chaos with potentially grave outcomes.
It is worrying is that violence is spiralling across the country. In Nairobi, violence broke out in Kawangware area leaving injuries and huge devastation in its wake.
Violent confrontations were reported in Mathare and Kibera on Thursday and although the fires cooled off, there is no knowing how long the truce will hold.
RUNNING BATTLES
In Bungoma, at least one person was killed following running battles between the residents and the police. Increasingly, violence is beginning to take root in the country, which is reason to make all of worried. This trend must stop. Concomitantly, the police have become extremely brutal in handling mass protest, on occasions, firing live bullets and killing hapless citizens.
From past experience, sporadic incidents of violence quickly bursts into a conflagration with tragic consequences. We are likely to go this direction unless quick action is taken.
Yet all these are a consequence of bad politics; as political leaders have implanted hatred and violence among their followers.
CHAOS
Leaders must now begin preaching the message of reconciliation and co-existence. Elections have deeply divided the people and we need to repair the fractures. We must extinguish the culture of lawlessness.
In the interim, IEBC must think more strategically of how to administer election in the four counties without provoking chaos. Notably, the National Super Alliance leadership has called on its supporters in those counties to keep of the polls but avoid violence. The local leaders should take cue and preach the same at the grassroots.
Political leaders should guide their followers appropriately and stop the violence, while the provincial administration and the police must avoid brute force in handling protesters.