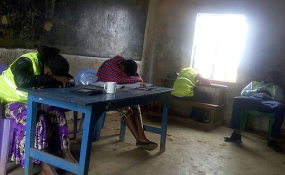 Photo: Nairobi News
By Naira Habib
Kenyans online have expressed varied reactions to an announcement by IEBC chairman Wafula Chebukati postponing election in four Nyanza counties from Saturday to a yet to be announced date.
On Friday Mr Chebukati cited security reasons to further postpone the voting exercise in this areas that have been characterized by wide scale violence and police brutality.
The four counties are strongholds of Raila Odinga, the National Super Alliance (Nasa) Presidential candidate who withdrew from the race and asked his supporters to stay away from polling stations.
Chebukati also announced that repeat election will continue as scheduled on Saturday in selected polling stations in Fafi and Turkana where the exercise was affected by security issues and adverse weather conditions.
This is what KOT had to say:
No repeat election in Nyanza means we never had an election. IEBC must organize elections in EACH constituency... Invalid, null and void!
-- Miss Muhoho Kenyatta (@misssKenyatta) October 27, 2017
JIEBC has postponed tomorrow's elections in Nyanza region because there will be no birthday tomorrow! 😂😂😂😂😂
-- Karani Mungania (@KaraniMungania) October 27, 2017
Thank you Chebukati for using logic in unreasonable law. NO Elections in Nyanza tomorrow. Lives matter most. #AllLivesMatter
-- Mwas Tha Keed (@mwasthakeed) October 27, 2017
He's wasting time, No elections in Nyanza. What part of "No" doesn't he understands?
-- Mr.O'moro (@MrOmoro) October 27, 2017
Chamo mukati suspends tomorrow's elections in the perceived luo nyanza region. No new date is provided for the postponed elections.
-- Benard Odongo Oima (@BenardOima) October 27, 2017
Just call off the elections in luo nyanza counties Mr chebukati. No more police brutality and vandalism by rowdy youths.
-- felix Arap ronoh (@felixronohh) October 27, 2017