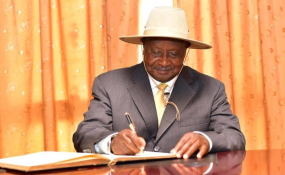 Photo: YoweriKagutaMuseveni/Facebook
By Socrates Mbamalu
The $8,000 paid to Ugandan lawmakers has been returned to the Parliament accounts office by members of the opposition party who referred to it as a bribe. The money was said to help lawmakers consult with their constituents over the removal of the age limit in the constitution.
Yoweri Museveni is more desperate to stay in power than ever before. Recently, a sum of $8,000 (29 million Uganda shillings) was paid to each member of parliament. The parliamentary spokesman Chris Obore reportedly said the payments were "to help them (legislators) to consult with their constituents on the bill."
As stipulated by the Ugandan constitution, the presidential age limit is 75 years. Museveni who is currently 73 years old will be unable to contest for another round of elections in 2021.
Museveni has been in power since 1986, making him one of the longest serving presidents in Africa. Currently serving his fifth term which came with a huge mire in elections last year, Museveni is already orchestrating how to be president for life.
The resistance against the removal in age limit has divided the house. Ugandan youths have also come out to resist the move to remove the age limit.
However, the opposition is resisting the latest manoeuver. John Baptist Nambeshe told Reuters "this is an outright bribe." The government has since come out to refute the statement that the money is a bribe. Members of the opposition party returned the money to the Parliament Accountant's office, referring to the money as dirty. Each of the 445 members of parliament was entitled to receive $8000.
Here is my official statement on the bribe deposited on my account.https://t.co/dRMMTPI89L pic.twitter.com/TgwxNFNaPJ
- BOBI WINE (@HEBobiwine) October 27, 2017
Nambeshe reportedly said, "To claim that it's a normal parliamentary facilitation - it defeats logic."
Ugandan legislator representing Kyadondo East constituency Bobi Wine issued a statement on the payment, which he returned, explaining reasons for the refusal saying its a "Shame" and "evil money".
The pattern of money sharing is however not new in Ugandan politics especially when an important bill is in parliament. In 2005, parliamentarians were given $2,500 each for the purpose of consultation in regards to the removal of presidential limits from two terms. The bill was passed and it has enabled Museveni stay in power for six terms.
Read: Yoweri Museveni president for life? Uganda's limitless presidential age
Later this year the parliament will vote on the bill. The bill is likely to be passed and will pave the way for Museveni to be life president.