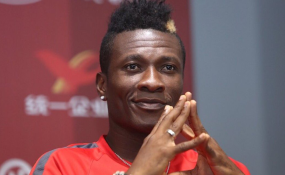 Photo: Asamoah Gyan/Twitter
By Socrates Mbamalu
Ghana's leading goal scorer Asamoah Gyan has started his airline Baby Jet (BBJ) Airlines. Gyna was recently issued with a certificate of operation. The airline is set to first start as a cargo carrier before it becomes a passenger airline. Congratulations Gyan.
Ghanaian footballer and international striker Asamoah Gyan is set to become the first African footballer to own an airline. The airline which is called Baby Jet (BBJ) Airlines was issued a certificate of operation.
Ghana's President Nana Akufo-Addo while attending the 2017 African Airshow said "I've been reliably informed that the captain of our senior national football team, Asamoah Gyan has obtained an air carrier licence. He is working feverishly to establish an airline, obviously called Baby Jet Airlines. I want to call on other Ghanaians both at home and abroad to invest in the rapidly growing aviation sector."
Ghana is keen on expanding its aviation sector and wants to become the travel destination in West Africa.
Gyan, who is the leading goal scorer of the Ghana national team, was last in the news on account of having unethical hair while playing in the United Arab Emirates. The 31 year old has a chain of businesses off-field.
Gyan responded to the president's commendation by thanking him on Twitter stating "this is a call to work hard with my team to make the BBJ airline dream a reality soonest and create jobs."
There have been torrents of congratulations to Gyan who also asked the public to ignore any social media page talking about recruitment for BBJ. "It's a scam, if you need any info contact my team," he Tweeted.
The African Airshow is the first aerospace and aviation exhibition and conference of West Africa and is being organised by Dubai-based 4M Events, organisers of the successful Abu Dhabi Air Expo for the past three years.
Baby Jet is Gyan's nickname and the airlines will first start as a cargo airline before expanding to passenger flights. Gyan currently plays for Kayserispor a Turkish club.