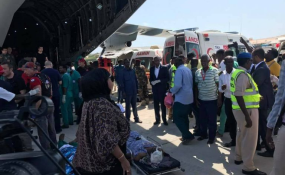 Photo: Shabelle
analysis
By HAGGAI MATSIKO, IAN KATUSIIME, JULIUS BUSINGE
Kampala — Hundreds of dead were burnt beyond recognition. One mother lost all her nine children. Wives, husbands, children and whole families perished in the Oct.14 bomb attack in Somalia capital, Mogadishu, whose death toll had reached 300 within two days. 300 others were reeling from injuries.
"Everywhere you looked, there were dead bodies," Abdulkadir Abdirahman, the director of Mogadishu's ambulance service told Al Jazeera, soon after the attack, "The tarmac was covered in flesh, blood, and pieces of clothes."
In one of the burned minibuses were children coming from school, he added, their charred remains tangled in what was left in the vehicle they were travelling in.
"Our country has never seen anything even close to this," he added.
Senator Abshir Ahmed said in a Facebook post that the attack was the deadliest incident he remembers since the 1990s, when the government collapsed.
Somali president, Mohamed Abdullahi Mohamed, declared three days of national mourning. He said the horrific attack "proves our enemy would stop at nothing to cause our people pain and suffering."
The attack is a major setback for Somalia, which has been pounded by militants for the last 25 years. But as international and regional security experts analyse ways to avert future attacks, fingers are pointing at probable contributing factors to attacks.
Targeting Trump's policy
The timing of the attack has been a point of much talk, happening as it did when the U.S. was intensifying its activity is Somalia. In April, President Donald Trump authorised the deployment of U.S. soldiers to Somalia for the first time since 1994.
The deployment brought back memories of 1993 when Somali militiamen shot down two American Black Hawk helicopters, killed 18 American marines, and forced then-President Bill Clinton to withdraw U.S. troops in March 1995.
But following the April deployment, the head of the U.S Africa Command (Africom), Gen. Thomas Waldhauser had just visited Mogadishu on Oct.12 and met with Somalia's President Mohamed Abdullahi Mohamed. Gen. Waldhauser was last in Mogadishu on April and met again with President Mohamed. Shortly after that, in May, a U.S. Navy SEAL was killed and two troops during attack on an Al Shabaab base.
Then on June 11, the U.S launched its first offensive attack against the Al Shabaab in Somalia under new relaxed rules of engagement authorised by President Trump. Africom said 8 Al Shabaab were killed in the attack. Since then Africom has launched almost weekly attacks on the Al Shabaab. A July 29 strike is said to have killed Sheikh Ali Jabal; the self-styled Al Shabaab governor of Mogadishu. The latest was on Sept.01 and killed Al Shabaab commander Abu-Xudeyfi in Barawe Southern Somalia.
According to the Long War Journal, U.S. Special Operations forces have launched 15 airstrikes against Shabab leaders, fighters, and training camps since the beginning of the year. Five strikes were launched in September alone.
Under the previous administration of President Barack Obama, U.S troops were allowed to use lethal fire only in defensive situations in Somalia. Trump has also apparently relaxed rules on and increased the use of drones in Somalia outside of declared warzones and even when there is a high likelihood of civilian casualties. A ground attack involving U.S. forces on Aug. 25 killed 10 civilians, including 3 children on a farm in Bariire, in Somalia's southern Lower Shabelle region. The attack in Mogadishu is, therefore, being seen as retaliation for the ratcheting up of U.S. offensive activity against Al Shabaab.
President Trump has set defeating radical Islamic terror groups as a major goal. But observers say, the deployment of U.S. troops in Somalia opened them up to manipulation in complex local clan fights. It is alleged, for example, that in September 2016, security forces in the semi-autonomous state of Puntland asked the U.S. to strike alleged Al-Shabab, but after 10 were killed, it emerged that they were not al-Shabaab but opponents of the government.
Invasion of foreign terrorists
The new Somalia government of President Mohamed Abdullahi Mohamed has also been sucked into the terrorism-ridden politics of the Middle East. Saudi Arabia and the United Arab Emirates who are antagonists on one side against alleged Iran-backed terrorists in Yemen and Qatar on the other have all been courting Somalia for support. The UAE has a military facility where it trains Somali troops, while Turkey has also recently opened its largest foreign military base in Mogadishu. Together with the U.S troops of the 101st Airborne Division and other special operations forces on training and advisory missions, and the AMISOM forces from Kenya and Uganda, Mogadishu is a confusing collage of incongruent forces supposedly pursuing the same enemy but under different instructions.
That no group had claimed the attack by press time has led to speculation that it was the handiwork of the Al Shabaab, a Somali-based terrorist group that has over the years terrorised the country and the entire region. But the magnitude of the attack has led many to believe that if it was the Al Shabaab, then they must have had help from Al Qaeda. The group, which was said to be losing its potency, has been gaining ground owing to support from Al Qaeda and the Islamic State.
For instance, while analyzing the attack, some experts said given that the Al Shabaab has not organized an attack of this magnitude and devastation, it was likely the group executed it with some external help.
Eye witnesses said the attack happened when the driver of a truck that had just stopped at a checkpoint and was about to be searched, suddenly accelerated, crashed through a barrier and then exploded. A nearby fuel tanker made the situation worse. The explosion created a massive fireball that could be seen several kilometres away.
Divisions within
The attack also comes at a time when Abdirashid Abdullahi Mohamed; then-minister of Defense, and Gen. Mohamed Ahmed Jimale, then-army chief, have just resigned. The two who were seen as the leaders of the Somalia government fight against Al Shabaab resigned under unclear circumstances on Oct.12, just two days before the attack. Although President Mohamed quickly filled up the position of army chief, it appears, it was not enough to avert the attack. Some reports claim the two were bitter rivals even as they pursued the same enemy.
Kenya distracted
Before it went into its election on Aug.08, the Kenyan government appeared to sense that if it did not steps up its offensive against Al Shabaab, the Islamist terrorist group would wreak havoc.
So the Kenyan Defence Forces on July 09 launched naval exercises in the Al Shabaab hotbed of Lamu's Shela area.
Just days before the exercises, the Al Shabaab had attacked a police station in the area with an Improvised Explosive Device planted underground. The next day, they beheaded nine civilians in Jima village.
Kenya was also hit in Nairobi's Westgate shopping mall in 2013 where 67 died and in 2015, 147 people died in a massacre at Garissa University.
But more Kenyans are said to be travelling to a terrorism haven in the Middle East for training, including in bomb-making.
There is fear that Kenya could turn into a terrorist haven if its leaders continue being distracted by the political impasse over the nullification of disputed results of the Aug. 08 election and the failure of President Uhuru Kenyatta and his archrival, Raila Odinga to craft a win-win way out.
Doubts of AMISOM
Uganda People's Defence Forces (UPDF) Spokesperson Brig. Richard Karemire told The Independent that all UPDF are safe. He explained that the attack happened in the middle of town in an area that has markets and a very big population and with lots of traffic.
"This is a vehicle borne improvised explosive device (VBIED)," he said, "It is hidden within the car and went off around 6pm."
He said at the time, the UPDF team under Brig. (Muhanga) Kayanja was supporting the rescue effort, providing emergency healthcare, securing the area, and continuing to support the Somali forces.
The attack comes just two months to December when AMISOM forces are expected to reduce. A 2017 UN Security Council Resolution approved a reduction of uniformed AMISOM personnel to 21, 625 by Dec 2017, which is a downsizing of roughly 1000 troops. The current composition of AMISOM troops is 22, 126.
The resolution stipulates that another 1000 troops should be reduced by late next year.
"A further reduction to 20,626 uniformed personnel by Oct 30 2018 would follow unless the Council decided to accelerate the pace, taking into account the capabilities of Somali security forces".
But a former Ugandan commander of AMISOM who preferred to speak on condition of anonymity told The Independent he sees problems in Somalia when the UPDF leaves.
He said that the UN and AU have been talking of an exit strategy where AMISOM should start a gradual withdraw by December but, he said, this could already be contributing to anxiety.
He says the Uganda army top leadership advised the AU and UN against the looming exit in various meetings.
"Whom are you handing over to? We asked them," the official said, "We instead requested for more troops not an exit. The local force is not up to the task. AMISOM is doing everything. If the exit happens, they will just be handing over to Al Shabaab."
He said that the Somali forces need more years of training before they can take over.
"The exit strategy if implemented," he said, "will create a threat of the erosion of gains made by UPDF. There is no local force and that is the problem. Only AMISOM can handle Somalia." Under this view, the attack on Oct.14 is evidence that the group is far from being eradicated.
Currently Uganda has 6700 troops in Somalia deployed in what is called Sector 1, which comprises the regions of Banadir, and Lower Shabelle and include Mogadishu and Janale cities. The second biggest AMISOM force of 5,432 forces from Burundi is in charge of Sector 5 which covers the Middle Shabelle region next to Mogadishu city. Kenyan forces are responsible for Sector 2 comprising Lower and Middle Jubba which covers Kismayo city. Ethiopia covers Sector 3 comprising Bay and Bakool as well as Gedo and Djiboutian forces are in charge of Sector 4 which covers Hiiraan and Galgaduud.
But Karemire said the AMISOM is to conduct a calculated handover and "not a reckless one".
He said UPDF has stayed in Somalia "because we have a mission to accomplish which is to eradicate the Al Shabaab"
While Karemire dismissed talk that the attack was evidence of how the security situation in Somalia is getting worse, it shows that even a calculated handover by AMISOM could be problematic.
Observers say, increasingly, the Al Shabaab appear to be eroding the gains by AMISOM to which Uganda contributes over 6000 troops.
AMISOM troops are again increasingly being ambushed.
One such attack occurred during a regular patrol to secure the Mogadishu-Barawe Main Supply Route and it involved an improvised explosive device (IED).
For instance, in July, the Al Shabaab launched a deadly ambush on AMISOM forces in southern Somalia. While AMISOM initially claimed that 12 soldiers were killed and several others wounded, the Al Shabaab claimed the figure was much higher.
"The Mujahideen today set up a series of ambushes for the convoy of the Ugandan Crusader forces and more than 39 soldiers were killed," said Abdul Aziz Abu Musab, the group's spokesman in a July statement. In a subsequent post, the group said the number of dead Ugandan troops was 51.
Although Uganda authorities claimed that the Shabaab was exaggerating the number of fatalities, Ali Nur, the deputy governor of Lower Shabelle region, was quoted by Reuters saying they had carried 23 dead AMISOM soldiers and a dead Somali soldier from the scene where the Shabaab ambushed AMISOM.
According to a UN report, 150 Kenyan soldiers were killed during the Jan. 15, 2016 surprise assault on an AFRICOM base in the town of El Adde.
Like in the case of the attack on the Ugandan forces, the Kenyan authorities had also sought to down play the attack.
The July ambush also revealed how the Shabaab had a bigger plan. It occurred around Bulo Marer, approximately 140 to 150 kilometers south of Mogadishu. The town had been freed from the groups' control by Somali and AMISOM fighters in Aug. 2014.
Bulo Marer had served as a major route for Al Shabaab and provided them with steady income obtained through extortion and forceful taxation of residents and travellers, according to the UN.
Experts pointed out that the attacks revealed how the Shabaab is trying to reclaim its territory.
While the authorities have dismissed the impact of these attacks, some observers have pointed out that the Al Shabaab assaults have in some instances forced African Union troops to withdraw from some cities and towns in southern Somalia. One such town is Lego, which the militants reclaimed in August.
List of recent bombings in Somalia
2017
Oct. 14 - Two massive car bombs at the K5 junction and in Madina district of Mogadishu kill at least 250 people.
Sept. 28 - A car bomb outside of a popular restaurant killed seven people.
Sept. 20 - A Somali intelligence official was assassinated after a bomb fitted into his car exploded in Mogadishu.
Sept. 11 - Car bomb killed one and injured four near a cafe and hotel on Maka al Mukarama street.
Aug. 27 - Car bomb injured two on Maka al Mukarama street.
Aug. 14 - An IED fitted under a taxi killed at least one near the Jazeera Palace hotel.
Aug. 10 - A suicide bomber was stopped at a security checkpoint on Maka al Mukarama street and fled the scene. The car bomb would later detonate killing one civilian and wounding three others.
Aug. 4 - Four people were killed and six others wounded in a car bomb that targeted the Ambassador Hotel on Maka al Mukarama street.
July 30 - Five soldiers were killed by a car bomb near a security checkpoint on Maka al Mukarama street.
July 29 - 12 UPDF were killed by Alshabab at Goryowein along Bulu-mater & Beladamin
June 20 - Six people were killed when a car bomb went off near a local government administration office in Mogadishu's Wadajir district.
June 14 - Eleven people were killed near a popular restaurant and hotel in a Shabaab suicide assault involving one suicide car bomb.
May 24 - Eight people were killed and 15 others wounded in a car bomb targeting a police checkpoint.
May 17 - A car bomb was intercepted and later accidentally detonated killing three and wounding two others.
May 8 - A popular cafe on Maka al Mukarama street was hit by a car bomb leaving five dead and 10 others wounded.
April 9 - 15 Somali soldiers were killed, including several high-ranking officers, and 20 others were wounded when their convoy passed a Shabaab car bomb.
April 5 - Eight people were killed outside the Ministry of Youth and Sports headquarters by a car bomb.
March 24 - A car bomb targeted a popular cafe and hotel near the presidential palace.
March 21 - Ten people were killed and 12 others wounded when a massive car bomb detonated at a security checkpoint.
March 13 - A Somali military base in Mogadishu was targeted, killing three and wounding five.
March 13 - On the same day, a popular hotel was also hit leaving six dead.
February 28 - A Somali government official was killed in an assassination after an IED fitted under the driver's seat of his car exploded.
February 19 - A massive car bomb targeted a market killing at least 30 people.
January 25 - At least 25 people were killed in a Shabaab suicide assault on the Somali Parliament building. Two suicide car bombs were used in the assault.
January 4 - Three UN soldiers were wounded near its headquarters in Mogadishu.
January 2 - Two suicide car bombs targeted a security checkpoint near the airport and a hotel.
2016
2016: June 1-25 - 30 civilians killed in South Somalia in twin bomb attacks.
2016: January 21 - over 25 people were killed at a beach popular with local Somalis near Mogadishu when five al-Shabaab militants attacked.
2015
September 1 - Al Shabaab militants said they had killed 70 AMISOM soldiers at the Janale base, 90km (55 miles) south-west of the capital.
2015: February - Al Shabaab carries out several violent assaults in Somalia at a busy junction and a nearby restaurant in the town of Baidoa, killing at least 55 people.
2015: February 20: Al-Shabaab militants launch a surprise attack on the Central Hotel in Mogadishu; a suicide bomber also blows himself up within the complex and 20 people are reportedly killed in the attack
2014
2014: November 1 - Al-Shabaab attacks Sahafi Hotel in Mogadishu, kills at least 15 people
2014: December 5 - Al-Shabaab claims responsibility for a twin attack in Baidoa that killed at least 19 people
2013
January 11: Al-Shabaab fighters kill intelligence officer Denis Allex and two other French soldiers in a botched rescue attempt by French forces.
January 29: a suicide bombing on the president's compound killed many people.
April 14: terrorist attacks in Mogadishu killed 28 people
September 21: Al-Shabaab claims responsibility for the Westgate centre shooting, an armed attack in a Nairobi shopping mall. The insurgent group asserts that its militants shot around 100 people in retaliation for the deployment of Kenyan troops in Somalia, with the Kenyan Red Cross confirming 62 fatalities and over 120 injuries.