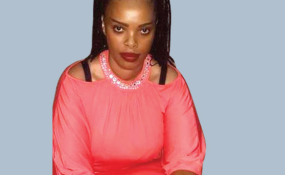 Photo: The Independent
By Haggai Matsiko
Kampala — She has met President Yoweri Museveni and the Director General of the Internal Security Organisation (ISO), Col. Frank Kaka Bagyenda. She is now being guarded by the Special Forces Command, the elite troops that protect the President but she still fears for her life.
And the police insist she is a person of interest and they want to interrogate her in connection with the murder of the late former Assistant Inspector General of Police (AIGP), Andrew Felix Kaweesi.
So who is Christine Umuhoza Mbabazi the woman who recently, on Oct.12, led to a near exchange of fire between the different security agencies at her home in Kosovo-Lungujja, a Kampala suburb? And what does she know about who killed Kaweesi?
An intelligence source told The Independent that Mbabazi became a subject of interest to security agencies following reports that she was privy to information about the police chief's murder.
Indeed, as the security agencies raided different parts of the country arresting suspects and collecting evidence, Mbabazi's home was not spared.
Kaweesi was murdered on March 17 and in April, elements she didn't identify raided her home, raped her and took off with her pictures, CDs and phones.
The Independent could not confirm what vital information she shared with Museveni to warrant her protection. However, we confirmed that she has been under the security custody of ISO.
Although Mbabazi has become a sensation on social media because of her recorded posts, she is quite calculative about what she says and does, including holding the Holy Christian Bible close to her heart. She appeals to emotions but offers few revelations.
Even her relationship with Kaweesi, as a mistress, is implied other than affirmed by her. All one sees in the videos is a woman of the world whose favoured weapon is a veil of vulnerability and guile.
Fresh details The Independent has obtained confirm that although this woman was introduced to President Museveni as a person with information about who killed Kaweesi, she appears not to trust him.
As a result, although Museveni reportedly ordered Kaka to keep her under 24/7 security surveillance, she somehow on Oct.12 managed to call police and report that she was kidnapped and was being kept in the house against her will.
Ordinarily, police officers from around her home in Lungujja and possibly Natete police stations, who she contacted, would have responded.
Instead it was the commander of the police elite unit called the Flying Squad Unit, Herbert Muhangi, who mainly handles high profile cases at the Nalufenya high security detention facility which is notorious for torturing suspects, who showed up at Mbabazi's house with a heavily armed force.
Police, ISO rivalry
The Flying Squad, which operates under the close supervision of the Inspector General of Police, Gen. Kale Kayihura, has been at the centre of the investigations in the Kaweesi murder. However, some observers say Muhangi's arrival with full force at Mbabazi's home spoke volumes.
And it appears Kaka's ISO force of about 10 was ready for them. A standoff ensued with police insisting on taking away Mbabazi and the ISO operatives refusing to hand her over and camp having its fingers on the trigger. Fortunately, phone calls to their superiors yielded a solution - the deployment of a so-called 'neutral force' - President Museveni's own guard.
But in the murky intelligence world, that story is just one of many being narrated about the incident. Other sources claiming to know exactly what happened claim the face-off between ISO and the police at Lungujja was not about Mbabazi but about an ISO agent--a one Lt. Serwanga Juuko.
Police reportedly wanted to arrest Juuko. This former convict, who is a former ISO agent and one of several that Kaka brought back to the agency when he was appointed in January, is said to have created tension between the police and ISO.
In one case, the woman at the centre of the Lungujja clash, Mbabazi, accuses Juuuko of expressing romantic desires of her and taking by force when he was denied.
But the return of Juuko and other agents by Kaka has created tensions at ISO with officers accusing Kaka of sidelining professional spies and bringing back deserters and informal operators. For instance, there reportedly was tension at the agency several weeks ago when Kaka directed that a vehicle that was being used by one of the directors be given to Juuko.
The other issue involved an operation that Juuko and group carried out in one of the Kampala suburbs. Apparently, the operation resulted into the death an operative that was working closely with former head of Police Special Operations, Nickson Agasiirwe.
The operation heightened tensions between police and ISO. Some insiders suspect that while police claimed it was at Mbabazi's residence to rescue her, the real motive was to arrest Juuko. It is not the first time Juuko is at the centre of a fight between police and ISO. The Independent has secured court records which reveal another incident. On Dec. 26 in 1999, Lt. Serwanga Juuko and a colleague went to Entebbe International Airport. Their mission was to arrest a Pakistani national called Nasar Ahmed, a suspected terrorist.
The operatives had received information that the suspect would arrive at the airport that morning on a Gulf flight from Dubai. At the same time, the Criminal Investigations Department (CID) of the Uganda Police Force had received similar intelligence that the same Pakistani would arrive at the airport with prohibited drugs (cocaine).
Three CID officers went to the airport to arrest him, if they found him with the drugs.
After protracted searches by both the officers of ISO and CID, a bag was found on the conveyer belt where the suspect had deliberately left it.
Both ISO and the CID officers wanted both the bag and the suspect.
Eventually the CID officers succeeded in retaining the bag which was found to contain the cocaine while the ISO officers took away the Pakistani.
Despite various assurances by the ISO officers that the CID officers would find the suspect in Kampala, however, he disappeared and was never arrested by the police.
The two ISO officers were arrested and charged with two offences of abuse of office and assisting the Pakistani to escape punishment.
The trial Magistrate at Buganda Road Court acquitted them on the charge of abuse of office but convicted them on the charge of assisting the Pakistani to escape punishment.
He sentenced them to 6 months imprisonment. Juuko and his colleague appealed but the High Court upheld the conviction and the sentence. They appealed the second time, lost again and were sentenced to Luzira.
With Kaka at the helm of ISO, Juuko bounced back and has been at the centre of several operations including the hunt for Kaweesi's killers.
Given the secrecy and rivalry between these agencies, it is hard to tell who is telling the truth. But the inconsistences surrounding the whole saga is further exposing the bodies involved.
Museveni's mistrust
An insider told The Independent that the deployment of Special Forces, which protects President Museveni, to protect Mbabazi was revealing how valuable she is to the President but also how distrustful of the two entities the President is.
Indeed, Mbabazi has openly accused ISO agents including their boss, Col. Kaka of harassing and framing her. She claims that Kaka produced a handcuffed informer while in a meeting with her who accused her of being party to a scheme by senior police officers to murder Kayihura.
Since Kaweesi was murdered, one of the theories that has been floated around, among several others, is that he was likely murdered by some senior police officers.
The clash at Mbabazi's home is being seen as a climax of tensions between the two bodies, which have simmered for years, but appeared to get out of control since investigations into the murder of AIGP Kaweesi begun early this year.
Following the murder, Inspector General of Police, Gen. Kale Kayihura directed Grace Akullo, the Assistant Inspector General of Police (AIGP) to head the investigations.
Akullo, police said, would coordinate with other security agencies; namely ISO, Special Forces Command and the Chieftaincy of Military Intelligence (CMI).
But almost instantly, each agency started working separately as was expected because of the interagency rivalry that has often been cited as the biggest impediment to cooperation amongst Ugandan security agencies.
Initially, the biggest fear was the animosity amongst the heads of the bodies. Gen. Kayihura and even Kaweesi who had just been murdered had been key subjects of ISO reports.
At the time, the Director General of ISO was Col. Ronnie Balya. The police bosses accused Balya of fighting them because he targeted their jobs.
Col. Balya was at the height of 2016 rumoured to be amongst those
President Museveni was considering to replace Kayihura. AIGP Kaweesi was seen as a potential Kayihura successor too.
But early this year, Kayihura's contract was renewed and this ceased to be an issue. Kayihura appeared to triumph against, Lt.Gen. Henry Tumukunde, who had after the 2016 elections been appointed Security Minister and had been fighting to see Kayihura booted out of police.
Initially, Tumukunde and Balya got along well. However, later, the two fell out because Tumukunde always wanted Balya to supply him with key intelligence before sending it to President Yoweri Museveni, sources said.
Balya had declined to do this because he also always wanted to deliver the same himself. With Balya out, however, Tumukunde got a better replacement in Col. Kaka Bagyenda, an old hand in intelligence and an ally.
Kaka is seen as a recruit of the President's brother Salim Saleh, who is also said to have been responsible for the rehabilitation and eventual re-appointment of Tumukunde.
But just as had been feared, Kaka's reports started targeting Tumukunde's foes with Kayihura at the top of the list.
For instance, in March this year, President Museveni and his handlers received intelligence that the police chief was scheduled to announce a presidential bid at a hotel in Mbarara, western Uganda.
Whoever was behind it claimed having realised that he was about to get fired, Kayihura had hatched a surprise move to protect himself in case Museveni attempted to contain him.
Intelligence agents had brought printed T-shirts and flyers, which they claimed Kayihura was to use to announce his presidency. Museveni had been severally warned that in 11 million crime preventers (Kayihura's figures), he had handed the police chief the most effective campaign machine.
Special Forces Command was put on standby and deployed. Other covert intelligence organisations like ISO had already deployed at the alleged venue, sources claim. Then all of a sudden, before SFC soldiers could take positions, they were recalled. The event was a hoax.
The following month, ISO released an even more lethal report implicating officials at the Central Bank, former Minister Jim Muhwezi, Secretary to the Treasury Keith Muhakanizi and businessman Bob Kabonero in a scheme to defraud government of millions of dollars.
This prompted Museveni to call a meeting on April 5, at 03:45 at State House Entebbe. In attendance was Bank of Uganda Governor Tumusiime Mutebile, Inspector General of Government Irene Mulyagonja and ISO's Bagyenda Kaka.
According to the minutes of the meeting a copy of which The Independent has seen, the President informed the officials that money had been stolen from the central bank.
The alleged theft, he said, happened through two transfers. The first transfer was of US$20million from the GAVI Fund account. The second was of US$18million from the Works in Progress suspense account.
After making this presentation, the President told the meeting that the details of the transfers would be got from a report by the ISO Director General.
He asked the Governor to investigate the transfers and report back on Friday, April 7 two days later.
The governor and his team were given the statement of the account held by Pine-Herst Holdings (CS_0118900784215) at the CIMB Bank in Malaysia, showing an inflow of the alleged amount that was transferred from Bank of Uganda.
He was also given the executive Summary of a report titled "Role of Rogue Elements in Security and Ministry of Finance in Cyber and Economic Fraud".
The report indicated that government bodies, and financial institutes in Uganda have been plagued by a vice, cyber-crime.
It added that individuals with in government had discovered the possibility of manipulating systems through the facilitation of ICT professionals known as hackers to perform fraud.
An agent who was part of the schemes noted that in the last few months, he had been involved in; transfer of money from my employer to a foreign bank in china, a total of $38million from finance IFMS through instruction of Keith Muhakanizi.
Away from the transfer, the hacker noted that he was also involved in transportation of huge amounts of money around the country for Bob Kabanero and Jim Muhwezi, whom he both met through Muhakanizi.
After reading this report, President Museveni is said to have met the agent responsible. He asked him about the money transfers. Apparently, the agent told the President that he had dropped $1.5million in Mbarara, $1million in Masaka and another $1.5million in Mbale to coordinate rebel activity.
When the President probed further, the agent said he had given the money to someone at Agip Motel in Mbarara. Agip is owned by Jim Muhwezi. But it seemed suspicious that an agent would just hand $ 1.5million to someone they didn't know just like that.
Meanwhile, Governor Mutebile's findings also arrived on April 7 as the president had asked.
"We have analysed the respective accounts and have not found any transactions for USD20million for GAVI Funds and USD 18million for Works in Progress account," Mutebile's report, a copy of which The Independent has seen reads in part.
The Independent spoke to Muhwezi, Kabonero and Muhakanizi who all dismissed the contents of the report as false.
Tumukunde versus Kayihura
Away from ISO, police has been trying to implicate Tumukunde. One of the suspects arrested by police in connection with the Kaweesi murder who has since been released. 55-year old Godfrey Musisi, his 42-year-old wife
Nankya Grace, and their three tenants, had on March 23 been arrested from their residence in Namugongo.
To break him, Musisi was severally tortured. On the third day of his arrest, he said, an officer he identified as Abbas Waswa took him to a room, threw something there and left. "Instantly," he said, "tears were coming from my eyes and mucus from my nose endlessly." The room was not ventilated. He could feel his lungs burning.
They asked him to confess that Security Minister Henry Tumukunde approached him to kill Kaweesi and the IGP Kayihura.
Apparently, when he refused, Tumukunde asked him to procure assassins and he gave him the contact of Abdu Nuru in Busia and gave him Shs100m to keep quiet.
To get him to agree to confess these things, an officer said on the Kaweesi investigation alone, there was Shs3 billion. He could be given Shs1 billion.
"What is your account, they can first put Shs500 million, we be eating that one," the officer said.
Herbert Muhangi, the commandant, police Flying Squad, also urged him to testify against that man.
In the last attempt to break him, an officer yanked his neck and dipped his head into a drum full of water.
"By the time I got out of the water," Musisi said, "I was gasping for breath. I had no sense of life at all."
The last officer to get him to talk was a one Minaana. "Why don't you accept and get released? He asked him. After that, they never returned.
Musisi later secured bail with the assistance of human rights lawyer, Laudislaus Rwakafuzi. But his revelations showed the dark side of the animosity between the Security Minister and the Police Chief. Insiders see the Oct.12 clash as the extension of that fight, which they see as a major security threat.