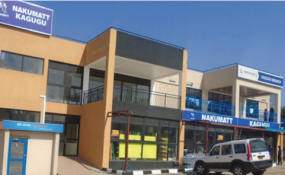 Photo: The Independent
By The Independent
When the Rwanda Revenue Authority (RRA) recently announced Nakumatt Rwanda as the winner of its Best Taxpayer Award of 2016, watchers in other markets where the regional retailer has a footprint took notice.
Many of them, possibly even within the company's subsidiaries in Uganda, Tanzania, and even Kenya were keen to know what makes Nakumatt Rwanda easily shrug off the turbulence within the group.
Winning the Kigali accolade was doubly surprising because it came just days after images of empty shelves of Nakumatt stores in Kenya and boarded up former Nakumatt outlets in Uganda hit social media amidst reports of impending further lay-off of staff in Kenya due to more stores being closed there.
But the big headline of course, was news of an impending salvage operation of Nakumatt by its Kenyan local rival, Tuskys.
On Oct. 16, the Citizen newspaper of Tanzania online edition carried a story that Tuskys and Nakumatt had written to regulator about their merger plan.
It quoted Dan Githua, Tuskys' chief executive saying they jointly wrote a formal notice to the Competition Authority of Kenya (CAK) alerting them of their intended merger while seeking the regulator's opinion on how to proceed.
It said Nakumatt "has faced an existential threat" in recent months after a delay in getting new capital and failure to refinance its obligations saw it default on employees, suppliers and lenders.
"A tie-up with Tuskys, which is still subject to due diligence and approval from regional competition regulators, is the latest scramble by Nakumatt whose proposal to receive a bailout from the government was snubbed," it said.
According to Business Daily, the CAK Director-General Wang'ombe Kariuki confirmed that his office had responded to the issue.
A merger of the firms will result in the largest retailer in the country, with rivals such as Naivas Supermarket and Uchumi Supermarkets far behind.
The choice now is whether they are seeking a management agreement or a merger.
So when news emerged on Oct.16 that Nakumatt Rwanda had won not just the 2016 Best Taxpayer Award but the Best Electronic Billing Machine Award too, many people paid attention.
At the awarding ceremony, the Nakumatt Rwanda Country Manager, Adan Ramata, pledged to continue with the stellar performance.
"We remain committed to maintaining prudent and ethical business management standards including prompt tax payments," Ramata said.
The optimism in Nakumatt Rwanda, which has three outlets after first setting up in 2008, is surprising in a group that has been reeling over Rwf120 billion in debts.
According to reports, the key success factors for Nakumatt Rwanda include ability to maintain good relations with and meet suppliers, debtors, and partners.
It, however, feels the bad brand perception created by the group's current woes. Nakumatt Rwanda's suppliers are mainly local under the Made in Rwanda campaign.