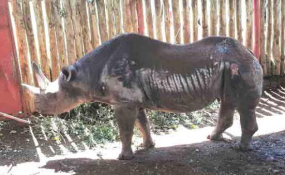 Photo: The Citizen
By Mussa Juma
Arusha — The Ngorongoro Conservation Authority Area has started growing nutrient pastures to feed and care rhino Fausta (54).
The move would help to serve money, which was spent for buying grass from Kenya. Rhino Fausta is being kept at the special place within the Ngorongoro Conservation Area (NCAA) as a way of protecting her from being attacked by other wild animals.
Speaking to journalists, the NCAA nutrition manager, Mr Hillary Mushi said the authority has allocated two acres for growing the grass, which will mature in seven months.
He said, the move is meant to cut the cost of taking care of the oldest rhino in the world. It has also been among the major tourist attractions at the NCAA.
The NCAA feeds Rhino Fausta with 250 bags of nutrients worth Sh5 million after every four months.
"It's a positive move, which aims at cutting the cost of procuring her pastures whose process is too long. It involves acquiring permits from the Tanzania Revenue Authority (TRA), Tanzania Food and Drugs Authority (TFDA) and other government's allied departments," he said.
For his part, one of the lecturers at the Tengeru livestock's training college, Mr Oshimu Mollel said the grown pasture has nutrients to enable the rhino's body resist deceases.
"It originated in America and can be harvested in 72 days if potentially planted on fertile soil," he said. Speaking about the condition of Rhino Fausta, NCAA zoologist Dr Athanas Nyaki said the rhino was in good condition following intensive care by government officials.
"She is preserved at a better and safer place, it is difficult for her to be attacked by poachers and other wild animals," he said.
He said, the oldest rhino has visual impairment, which makes it impossible for it to survive in an environment where there is a variety of wild animals.
The NCAA is among the little conservation areas with a large number of rhinos in the world. They are being protected around the clock using special devices.